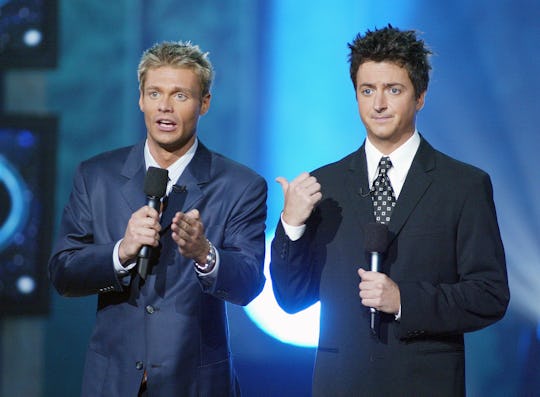 Kevin Winter/Getty Images Entertainment/Getty Images
Will Brian Dunkleman Return For The 'American Idol' Finale? He Was There When It Began
If you missed the first season of American Idol, you may not remember Brian Dunkleman. Back when American Idol was just beginning, Ryan Seacrest wasn't the only host of the show. Instead he actually had a co-host, Brian Dunkleman, who left the show after the first season to pursue an acting career. But, will Brian Dunkleman return to the American Idol finale? It would be a crime if the show didn't reunite Ryan Seacrest with his original co-host of the show.
Since his year on Idol, Brian, who refers to himself as a "television history footnote" in his Twitter profile, has appeared in a few TV shows including NYPD Blue, Naruto, Las Vegas, and Ghost Whisperer. Brian also does stand up comedy and recently told CNN he's working on a TV show inspired by HBO's hit documentary, The Jinx.
Although Brian may not have found the immediate success he was hoping for after he left Idol, when asked if he regrets leaving American Idol after it's first season, Brian told CNN there's no easy answer. "I don't even know who I would be if I was still on that show," Brian said. He does of course regret the money he could've gotten had he stayed. Now that the show is ending though, Brian wishes it well, is proud that he was a part of the show at all, and considers that an accomplishment.
But will he be returning to the show for the final episode? According to TMZ, Dunkleman will "open the show" — which sounds great in theory, but let's be honest, it would be criminal to not let the long-running host Ryan Seacrest utter the final "THIS is American Idol."
Brian has yet to comment on whether or not he will be returning but when the news of American Idol's cancellation first broke last year, Brian couldn't help but make a joke about his leaving the show way back when.
All jokes aside though, it would be great to see Dunkleman on stage with Seacrest one last time. Maybe they could even spike their hair again just like the good ol' days. One can dream.