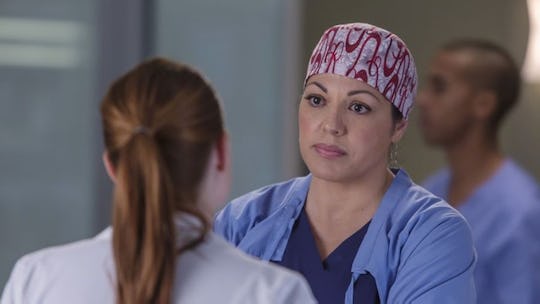 Ron Batzdorff/ABC
The Odds Of Callie Returning For 'Grey's Anatomy's 300th Episode Isn't Good
When Sara Ramirez made her Grey's Anatomy exit as Callie Torres at the end of Season 12, it was a sad case of another one biting the dust. But like Arizona, we've all pretty much dealt with that and moved on. However, with the upcoming 300th episode airing on Nov. 9 — which promises tons of nostalgia and a more lighthearted than heavy episode — you can't help but wonder about her popping back up. So, will Callie be in Grey's Anatomy's 300th episode?
Back in August, TVLine reported that Grey's executive producer Debbie Allen revealed that there were no plans set in motion for Ramirez to return during Season 14. "There are no plans at the moment," Allen stated. "We love her and we miss her, [but] there's been no discussion of it." Unfortunately, I'm inclined to believe that also goes for Season 14's special 300th episode as well.
At the time of Callie's departure from Grey Sloan Memorial Hospital and Seattle altogether to follow her girlfriend to their new life in New York, Ramirez said in a statement that she was looking forward to taking a long break:
I'm deeply grateful to have spent the last 10 years with my family at Grey's Anatomy and ABC, but for now, I'm taking some welcome time off. Shonda [Rhimes has] been so incredible to work for, and we will definitely continue our conversations. I send my love to Ellen [Pompeo], the rest of the cast and crew, and I look forward to always being a part of the Shondaland family!
Granted, it's true that Arizona received a text from their daughter, Sofia, earlier this season about wanting to move back home with her. However, it doesn't look like Callie is going to be coming back with her.
ABC.com posted the description for the 300th episode as: "The doctors tend to patients who spark memories about ghosts from their past." Since the network also released that the only guest stars set for the 300th episode are the already recurring Debbie Allen (Catherine Avery) and Stefania Spampinato (Carina DeLuca), it's fair to say that any of the "ghosts" returning for the special episode are going to be well-placed lookalikes to bring the feels, keep up the nostalgia factor, and make the 300th episode feel as monumental as it is.
This, of course, means that Callie won't be in the Grey's 300th episode, but since she was a big part of the series for 10 solid seasons, she's going be paid homage to, much like the gone but never forgotten George, Izzie, and Cristina, among other Grey's OGs that fans still love and miss to this day.
Admittedly, Callies exit from Grey's at the end of Season 12 wasn't the best. After a difficult custody battle with Arizona for sole custody of their daughter, which brought their friends and colleagues into the courtroom, Arizona eventually relented and let Callie take their daughter with her to New York. But unlike Riggs and Amelia's recent happy ending, it didn't really have that kind of feel to it, so it's not much of a surprise that Callie still hasn't returned.
Even though Callie won't be back for Thursday's episode, that doesn't mean fans should completely lose hope for the character ever returning at all. Instead of being killed off or leaving with zeros ties behind, there's always room for Callie to be sucked back to Grey Sloan Memorial Hospital, especially if her daughter is going to be living with Arizona at some point. For right now, though, it looks like we're going to have to scrub into this week's milestone episode without her.
Watch Romper's new video series, Romper's Doula Diaries:
Check out the entire Romper's Doula Diaries series and other videos on Facebook and the Bustle app across Apple TV, Roku, and Amazon Fire TV.