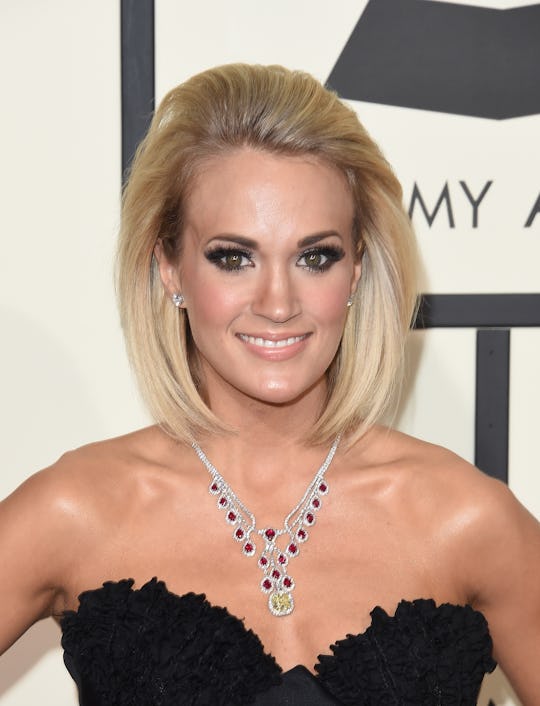 Jason Merritt/Getty Images Entertainment/Getty Images
Will Carrie Underwood Have A Second Baby? It Could Happen Sooner Than You Think
Should we expect a second baby from Carrie Underwood and her husband Mike Fisher soon? Baby number two could actually make its debut a lot sooner than you think, expanding the American Idol alumni family even further, considering Kelly Clarkson is just about to have baby No. 2 as well.
People magazine is definitely paying attention to a possible American Idol baby boom — in their special issue surrounding the soon-to-be-ending singing reality series, the magazine spoke to Season 4 winner Underwood, who revealed she's ready for a second child. She and Fisher already are parents to 1-year-old Isaiah, but it seems she wants her family to grow even larger.
"I definitely see one more baby. At least," she said, referring to her five-year plan.
Luckily, she'll have a lot of help, thanks to Fisher. Particularly if he is no longer traveling the country on the ice with the Nashville Predators. (He is a centre for the team.) Underwood said Fisher may be retired from the sport by 2021.
And she's learned plenty of lessons since Isaiah was born in early 2015. For one, she learned to, well, not sweat the small stuff when caring for your small child.
As she told the magazine: "You have to become a little simpler in order to have the energy to give your baby. I feel like being a mom makes you realize the things that maybe you stressed about, thought about before, just really aren't so important."
Underwood continued: "The things I do in my life aren't all focused on me now. You definitely pick and choose the things that are really important for you to focus on, and of course, baby is number one."
And baby two might soon be number one as well. After all, OK! Magazine already reported Fisher wants his kids "to grow up close in age." Nothing like the year of the American Idol finale to premiere something new, right?
Ed Note: An earlier version of this story did not properly cite an Inquisitr story about Underwood's expanding family. Romper regrets this error.