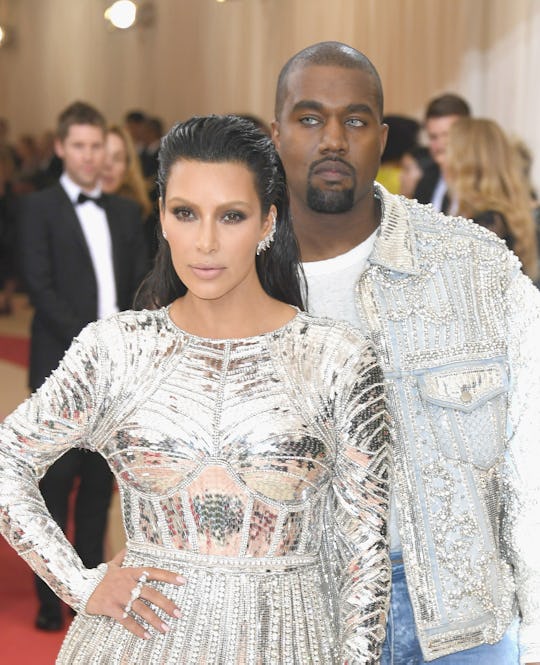 Larry Busacca/Getty Images Entertainment/Getty Images
Will Chicago West Be On 'KUWTK'? Keep Your Fingers Crossed
It hasn't even been two weeks since Kim Kardashian-West and her husband Kanye welcomed their third baby, and already fans are dying for their first peek of her. I mean, everyone totally gets why Kim and Kanye have kept baby Chicago to themselves so far; she's so new to the world, after all. But people can't help being curious about the newest addition to the KarJenner clan. People want to know if Chicago West will be on Keeping Up With The Kardashians like her older siblings; mostly 4-year-old sister North, though 2-year-old brother Saint has made the odd appearance as well. Because in this fan's opinion, the kids are pretty much the most entertaining people on the show.
In a way, Chicago (who will reportedly go by the nickname Chi) has technically been on the KUWTK. As Kim went through her journey to have a third child with rapper husband Kanye, she eventually shared her decision to hire a surrogate on the show. A surrogate who would eventually carry daughter Chicago. And when a surrogate was found outside the family (not youngest sister Kylie Jenner as the conspiracy theorists had been speculating), Kim announced her pregnancy to sister Khloé during an episode of KUWTK. So basically, Chicago's imminent arrival has been the star of Season 14.
Whether or not the actual Chicago West will be on the show, however, remains to be seen. Sources close to Kim told People that the new mom is simply trying to adjust to being a mother of three at the moment, and is especially concerned about making sure that North and Saint are feeling comfortable with their new sibling:
Kim wants to make sure North and Saint have a lot of extra attention and feel included as well. It's a big deal for everyone to have a newborn in the family. Kim and Kanye are at home with the baby. They are so happy. They have had some visitors, but mostly Kris [Jenner] and Kourtney [Kardashian] are helping out."
Kim is also reportedly trying to make sure that she has a lot of "hands-on" time with the new baby, as a source told Us Weekly:
Kim gets up for everything, in the middle of the night, especially in the first week. It's really important they bond with the baby. Kim's a very hands-on mom. Baby is settling in beautifully. Chi is sleeping a ton for now.
When Chicago was born on Jan. 15, both Kim and Kanye were reportedly in the delivery room and Kim was the first person to make skin-on-skin contact with the baby. Kim was very open about struggling to come to terms with a surrogate carrying her baby; she had two difficult pregnancies with her older two children, and doctors felt it wouldn't be safe for her to carry another child herself. But she initially had a tough time trying to find her balance with her surrogate, as she told sister Kourtney on KUWTK:
It is frustrating like to not be able to do it on your own. It is a weird dynamic. Like, I go to all the doctor's appointments and I try to be really present, but when you're not carrying it yourself it is such a fine balance of how much you're going to be in their lives.
Now that baby Chi (pronounced "shy") has arrived, Kim and her family seem to be focused on trying to find their new normal. And if that new normal manages to include, say, a little peek or two at the new baby on KUWTK, I mean... I think everyone would be okay with that, right?
Check out Romper's new video series, Romper's Doula Diaries:
Watch full episodes of Romper's Doula Diaries on Facebook Watch.