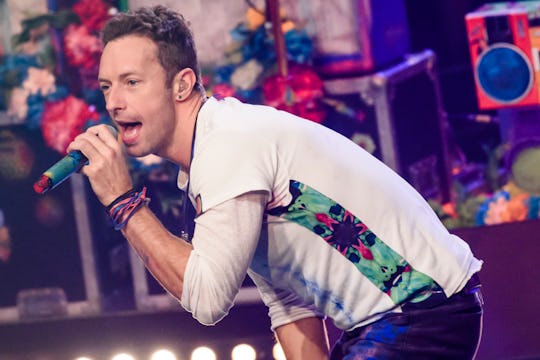 Clemens Bilan/Getty Images
Will Chris Martin Lip Sync His Super Bowl Performance? It's Entirely Possible
This Sunday, Coldplay and Beyonce are taking over the Super Bowl halftime show. Thank the pop music gods for that. More than likely the duo will be thrilling audiences with the Coldplay single, "Hymn for the Weekend" along with other fan favorites. In short, it's bound to be a good time. Unless you're a purist, of course. It's entirely possible that Chris Martin will lip sync his Super Bowl performance. Cue the groans from hardcore fans.
Here's the thing: it's not a big deal to lip sync if you at least do it well. Unfortunately, Coldplay has a record of sort of messing it up on live television. In 2008, Coldplay performed on Saturday Night Live and fans were convinced Martin was lip syncing. In a Yahoo forum, fans gathered to discuss the performance. Something was just "off," they thought. Some were insistent that he was lip syncing and was making "breathing noises" into the microphone to feign authenticity. Others fought for the band's dignity pointing out some of the mistakes in the vocals, which would mean Martin was actually going for it.
But the question isn't whether or not Chris Martin will lip sync. The real question is: who cares? If you are a fan of music and live performances, you can easily spot when someone is lip syncing. Sometimes, that can be a good thing. Wouldn't you rather watch Britney Spears dance than listen to her sing? (When it comes to performers who sing and dance, sometimes it's better for everyone if they save their breath for twerking.)
But there are situations other than breaking it down that call for lip syncing. More often than not, it's viewers' expectations about what a show should bring that forces the artist to sing over a track. In that case, there's no one to blame but ourselves.
Grammy-nominated recording engineer Ariel Chobaz told ABC News that during events like the Grammy's or on SNL, for example, it's hard to mic up an entire stage in say, one minute. "It's physically not possible to mic an entire band for every segment that comes up," he said. He defended the performers saying, ""At the end of the day, when it's a big broadcast event, there's very little room for error, and sometimes the show has to go on."
For something like the Super Bowl halftime show, they certainly have time to mic the stage for everyone. But it's also a circus of pop culture. Last time Beyonce performed at the Super Bowl, she had just landed herself in hot water with fans for lip syncing at President Obama's inauguration. Because of that so-called scandal, she did not lip sync during the halftime show. The tune was a little breathy but she killed it.
Beyonce will be performing with Coldplay during "Hymn for the Weekend," so it's possible that they'll all just agree to let it rip, au natural. But even if they don't, it's important to remember that lip syncing doesn't mean that an artist isn't talented.
There are, of course, times when lip syncing goes tragically wrong. Anyone old enough to remember Milli Vanilli's track skipping as they tried to sing "Girl You Know It's True?" One band member said afterwards that he "wanted to die."
Since everyone will be tuning into the big game on TV and on Twitter Sunday night, it might be safer for the artists to just not lip sync. Could you imagine the memes if Martin's track skipped halfway through the song? He would have to consciously uncouple himself from his career at that point. Better to be a little off key and keep it real in the digital age.