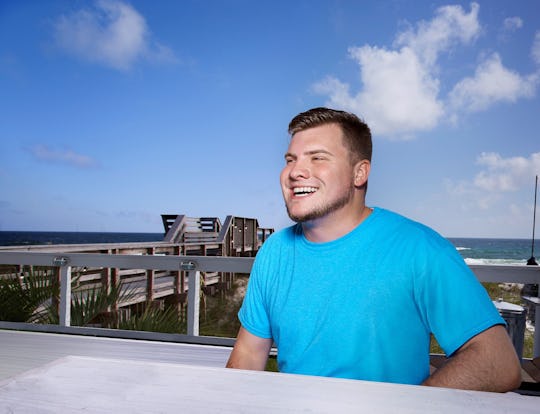 MTV
Codi Wants To Be More Than Just Friends With Candace On 'Floribama Shore'
There are always hook ups happening in the Floribama Shore house, but things get infinitely more complicated when sparks start to fly between two people living in the house. Especially if the sparks are only coming from one person. That seems to be the case right now with Codi and Candace, though Codi is sure he can sway Candace into his bed. So will Codi and Candace actually get together on Floribama Shore? Unfortunately for Codi, the odds don't seem to be in his favor.
Codi's pursuit of Candace began on last Monday's episode when in his confessional he revealed that he's actually had feelings for Candace for a long time.
"I've been wanting to get with Candace for a while, so this is where I'm going to make my move," he said. "Some people think that by being friends with somebody first, it gets you put in the friend zone—not Codi. I can get out of the friend zone faster than you can snap your fingers." Unfortunately for Codi, he was mistaken on how quickly he'd be able to win Candace's affection.
During the episode Codi called to Candace from his bed saying, "Candace, my bed is empty. And it needs you in it." Candace did not respond to the call, so Codi decided to go to her room instead and crawled into bed with her.
When Candace asked what exactly Codi thought he was up to he simply said, "I'm getting into bed. I just want to snuggle up and go to sleep." Unfortunately, in her own confessional Candace made it very clear that she doesn't take Codi or his flirting seriously. Still, Codi just can't seem to take a hint.
In a promo for Monday night's episode, Codi goes out with Candace and Kirk and Codi is on a mission to make Candace jealous. He's seen kissing any girl that'll let him and dancing with everyone, making sure that Candace sees him. However, Candace is still unmoved and unbothered by Codi's flirtations.
"Codi's attempt to make me jealous is not going to work," she says in her confessional. "I'm not going to be worried about Codi. I'm trying to dance and have a good time." Hopefully, Codi will finally get the hint and let his hopes about becoming more than just friends with Candace go and move on to someone else, before the situation gets awkward.
Another quasi romance that may be blossoming in the house is between Nilsa and Gus. During the first season, it was Gus who was interested in Nilsa, but after going on a less than stellar date with him, Nilsa was over it and only had eyes for Jeremiah (and then his brother). However, this season the tables have turned. After a night of partying and drinking, Nilsa found herself sitting in Gus' lap on their way home. She then proceeded to kiss him, multiple times, and asked him to give them a try.
Gus wasn't totally sold on the idea, however. Though he didn't exactly push Nilsa away when she was giving him all those kisses, he later told Jeremiah that he felt it was "very dangerous to go down that road" with Nilsa. Thus, it seems there are currently two unrequited loves in the Floribama Shore house at the moment. Perhaps Codi and Nilsa should just date each other, or maybe they'll find people outside of the house that are more receptive to their affection.
To find out how these failed love connections work out, tune in to Floribama Shore, which airs on MTV on Monday nights at 10 p.m. ET.