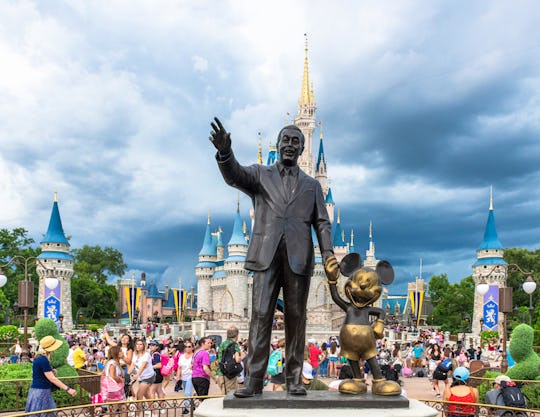 Roberto Machado Noa/LightRocket/Getty Images
Disneyland & Disney World Are Closing Due To The Coronavirus Outbreak
A day after the ongoing global outbreak of COVID-19 prompted the World Health Organization to deem it a pandemic, the coronavirus has led Disney to close its theme parks in Anaheim, California and Orlando, Florida. Disney announced on Thursday that Disneyland will close for the remainder of the month starting on March 14, while Disney World will close on March 15.
"While there have been no reported cases of COVID-19 at Disneyland Resort, after carefully reviewing the guidelines of the Governor of California's executive order and in the best interest of our guests and employees, we are proceeding with the closure of Disneyland Park and Disney California Adventure, beginning the morning of March 14 through the end of the month," Disney said in a statement on March 12.
"The Hotels of Disneyland Resort will remain open until Monday, March 16 to give guests the ability to make necessary travel arrangements; Downtown Disney will remain open," Disney said. "We will monitor the ongoing situation and follow the advice and guidance of federal and state officials and health agencies." Disneyland and Disney World will continue to pay cast members during the closures.
The California theme park added that it will be working with guests "who wish to change or cancel their visit, and will provide refunds to those who have hotel bookings during this closure period."
"We anticipate heavy call volume over the next several days and appreciate guests' patience as we work hard to respond to all inquiries," Disney said, advising those who wish to change or cancel their travel plans to call 714-520-5050.
Disney World said the decision to close the theme mark starting on Sunday was made out of an "abundance of caution" and "in the best interest of our guests and employees."
Disneyland Paris Resort is also closing for the remainder of March starting on Sunday. Additionally, Disney Cruise Line has also suspended all new departures starting on March 14 until the end of the month. Disney added that the hotels at Walt Disney World and Disneyland Paris will remain open "until further notice," as will the retail and dining complexes.
"We will continue to stay in close contact with appropriate officials and health experts," Disney said on Thursday.
Ahead of Disneyland and Disney World's closures, two other resorts — Shanghai Disneyland and Hong Kong Disneyland — have closed indefinitely due to the coronavirus outbreak, The Orange County Register reported. Tokyo Disney Resort has also closed through April "out of consideration for the health and safety of our guests and cast members."
As of March 14, data from the U.S. Centers for Disease Control and Prevention shows there have been a total of 1,215 confirmed cases of the novel coronavirus and 36 deaths in the United States. Last month, CDC health officials urged schools and workplaces across the country to have contingency plans in place if the coronavirus outbreak continues to spread, as it has.
"Some community level interventions that may be most effective in reducing the spread of a new virus like school closures are also the most likely to be associated with unwanted consequences and further disruptions," the CDC's Dr. Nancy Messonnier told reporters at a press briefing. "Secondary consequences of some of these measures might include missed work and loss of income. I understand this whole situation may seem overwhelming and that disruption to everyday life may be severe, but these are things that people need to start thinking about now."
The World Health Organization recommends that your best protection against COVID-19 is to wash your hands with soap and water frequently, keep a one meter distance from people who are coughing or sneezing, avoid touching your eyes, nose and mouth, as well as staying informed on the latest developments.
If you think you're showing symptoms of coronavirus, which include fever, shortness of breath, and cough, call your doctor before going to get tested. If you're anxious about the virus's spread in your community, visit the CDC for up-to-date information and resources, or seek out mental health support. You can find all of Romper's parents + coronavirus coverage here, and Bustle's constantly updated, general "what to know about coronavirus" here.
This article was originally published on