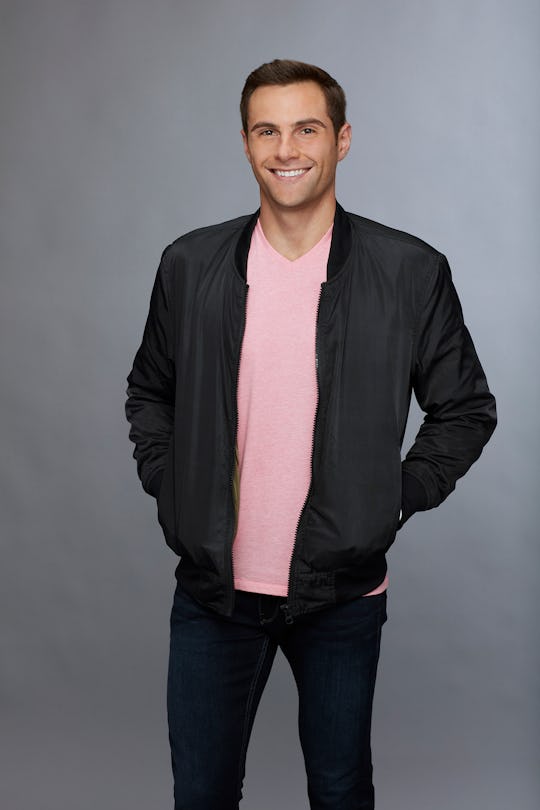 Craig Sjodin/ABC
Will The Chicken Make An Appearance On 'Bachelor In Paradise'?
When David showed up in the chicken costume during The Bachelorette premiere, I wasn't sure what to think of him. I was surprise he wasn't eliminated to be honest. And now that he's involved in one of the season's major conflicts, I can't help but wonder, will David be on Bachelor in Paradise? There's a chance he may leave during the 2-on-1 date with his arch-nemesis Jordan, but even if he stays I'm guessing he's not winning the whole shebang no matter what.
Update: Yes, David Ravitz will be on Bachelor In Paradise, as confirmed by People on June 26.
Usually when someone shows up in an animal costume on night one, they're known for it for the rest of the season. (I'm looking at you, Alexis from Nick's season of The Bachelor). Not David, though. He's one of the rare contestants that transcended their opening night gimmick, and it's because he's involved in a little drama. During a group date, fellow contestant Jordan wouldn't shut up about his huge amount of Tinder matches (4,000, apparently) and his 100 percent match rate (right).
David got annoyed and tattled on Jordan to Becca. Jordan was not pleased, and thus began the David-Jordan feud that will last until Monday night's episode. David says Jordan is only here to further his modeling career — which is probably true — and Jordan says that David could never be a male model like him — which, hey, you never know.
The feud took a brief hiatus when David literally fell out of his bunk bed and had to be rushed to the intensive care unit because of his broken nose. Jordan reacted by making fun of his face and pranking his bunk bed. The two men's escalated drama means only one thing: they are going on the infamous 2-on-1 date.
I can't say who is going home during Monday night's date but at the end of the day, it doesn't matter. The 2-on-1 signals that they will both eventually going home. It is an infamous date in the Bachelor franchise for a reason. It means that the lead has a problem with both of them, and the lead needs time to figure out who they want to get rid of first.
So if I had to guess, even if David advances after the 2-on-1, he won't win this season. As everyone knows, there can only be one winner of The Bachelorette, and David is probably not meant to be that one. However this does open up the possibility that David will show up at a certain resort in Mexico this summer.
As of now, there's no word whether David will be on Bachelor in Paradise, but seeing as he's lasted this long — and that he's not afraid to stir up a little trouble — I think it could happen if he wants it. But fans should buck up, because there's a possibility that the chicken costume will live on on Bachelor in Paradise.
Furthermore, it seems all but certain that Jordan will go to Paradise as well. This would make for some great TV. Will David and Jordan fight like they did on Becca's season? Will they fall for the same girl? Will they fall for each other? (Just kidding, Paradise isn't that good.) Whether he goes home Monday night or a few weeks later, I'll be sad to see David go. But I take heart that he could be headed to Mexico as I type. And if not, it's 2018 people. now you can follow all of your favorite contestants on Instagram, so you'll see their vacation photos and snapshots of their pets for years to come.