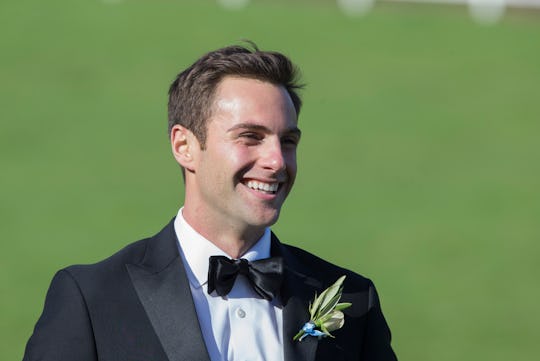 Paul Hebert/ABC
Is Becca Losing A 'Bachelorette' Contestant To An Injury?
Becca Kufrin's season of The Bachelorette is well under way, and after taking a look at the sneak peak of what's to come, it looks like you'll be seeing a lot of romance, drama, and one mysterious ambulance ride. From the promo for next week's episode, along with a little help from Reality Steve, fans have figured out the the guy on the stretcher is David Ravitz. He's been a fan favorite from the beginning, so many people are wondering, will David leave The Bachelorette after his injury, or will he get to stick around for another rose ceremony?
WARNING: Potential Bachelorette spoilers head!
Just because he was hurt doesn't mean he won't return to the show. A spoiler from Reality Steve hints that David made it to a two-on-one date with Becca in Las Vegas after his injury, so it looks like he was able to keep himself in the competition. The Bachelor franchise is no stranger to medical emergencies, and when something critical arises, the show's staff and medical team make sure to provide prompt medical attention. There have been a number of Bachelor, Bachelorette, and Bachelor in Paradise contestants who've sustained injuries on set, and many of them came back to filming once they were better.
So how exactly did David get hurt? The preview showed David and Jordan arguing, and then Jordan is heard saying "I would be worried if I was him. People that go against me just end up hurt sometimes." This faded into the scene of the flashing lights of an ambulance, and a contestant (presumably David) being taken out of the mansion on stretcher. Although the editing may have insinuated that David was hurt in a fight, possibly with Jordan, according to Reality Steve, David really just fell from his bunk bed, resulting in a broken nose and a concussion. This could explain why he was taken out on a stretcher at night, in his boxers, and covered in blood.
Honestly, it is going to be really heart wrenching to see David get hurt, because he's been such a gentle soul from the beginning. He won over fans of The Bachelorette when he stepped out of the limo dressed as a chicken on the first night. As he spoke to Becca, he came across as a really sweet and genuine guy, and after taking a peek at his Instagram page, it looks like he's super into his family as well. I'd say David is definitely a catch, and it looks like Becca thinks so, too.
Not only does he have an adorable personality, he really seems to care about Becca. He has voiced his suspicions about Jordan's motivation to be on the show, and when Jordan showed up at the cocktail party to sit with Becca in just his underpants, David shared his mistrust. He said:
"You know we're all out here looking for love, and I question, is he here for the right reasons? Truthfully, I don't think he is."
He even went on to confront Jordan about the whole thing, telling him that he thought showing up in underwear to see Becca was disrespectful. Calling Jordan out for his egocentric behavior was really intuitive on David's part, and I hope he gets to air his suspicions to Becca before she hands Jordan another rose.
So while David may end up missing a rose ceremony due to his injury, his apparent Las Vegas date with Becca means that he will be making it back to the show. Hopefully, the next episode will provide more clarity to the whole situation to give fans some peace of mind.