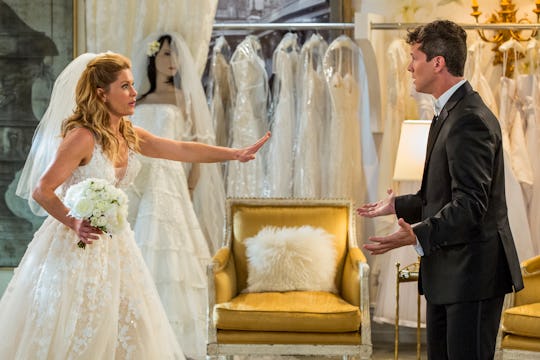 Mike Yarish/Netflix
'Fuller House' Season 3 Left D.J. & Steve At A Crossroads
Fans are three seasons into Netflix's wildly successful Full House reboot and yet, the lingering question of whether D.J. Tanner still has any relationship potential with her high school sweetheart Steve still hasn't been resolved. And after an accidental romantic confession on the way to his literal wedding, fans are wondering: will D.J. and Steve get married on Fuller House? The setup is super reminiscent of the Ross-Rachel-Emily wedding debacle on Friends, so who knows! It wouldn't be unprecedented.
Season 3 got a super-sized order from Netflix with its 18 episode pickup this year, but that also means that it got split up into two parts. The first half dropped earlier this year in September, while the second half debuted in December, and between the two parts was nestled one looming cliffhanger.
Part one ended with the whole Fuller extended family flying to Japan for Steve and C.J.'s wedding. Sure, she's basically a doppelgänger of his high school girlfriend, but no one seemed to interrogate it very seriously. And with D.J. happily dating her extremely hunky co-worker Matt, a fellow vet, it seemed like everything was working out for everyone. But on the plane ride across the Pacific, while Kimmy and Stephanie were guzzling wine they had smuggled on board in 3-ounce shampoo bottles, D.J. accidentally made a confession to Steve, thinking he was her seat mate Kimmy. (She was wearing an eye mask, because sit-com hijinks.)
Steve tried to speak up but D.J. barreled through her vent session, inadvertently telling him that she was going to choose him over Matt the previous summer, until she discovered that he was no longer available. She also confessed that it was going to be hard to watch him get married to someone else, and that she felt like she was losing her soulmate. But it's too late, she argued with herself, and she couldn't tell Steve now because "it would totally freak him out." All of this she said while Steve was sitting right next to her, mouth agape in that adorably goofy way we've come to know and love.
Making things even more complicated is the fact that Matt is also planning to propose to D.J. in Japan. (Apparently no one told him that it's kind of a bad look to steal the bride and groom's thunder by proposing on their wedding trip — especially when your girlfriend is the groom's ex and they share a ton of history.) So all of this could go down one of a few ways in Season 3, Part 2.
Steve could explain to D.J. that he was her unwitting confessor on the plane, and they could process their feelings about it before he goes on to marry C.J. D.J. is pretty pragmatic when it comes to love, so I could see her coming to the realization that she was romanticizing her past with Steve and ultimately give him her blessing to marry someone else he feels happy with. Or, Steve could do nothing and accidentally say "I, Steve, take you, D.J.," à la Ross and Rachel, causing problems later.
Then again, this show is not above ridiculous plot twists for a feel-good ending. Jesse and Becky adopted a new baby after raising twins for 18 years, for goodness sake. Steve and D.J. have one of the most robustly shipped will-they-or-won't-they romances of the past two decades. It's hard to imagine that Fuller House's writers can restrain themselves from the payoff of finally putting them back together, even if it's completely unrealistic.
Check out Romper's new video series, Romper's Doula Diaries:
Watch full episodes of Romper's Doula Diaries on Facebook Watch.