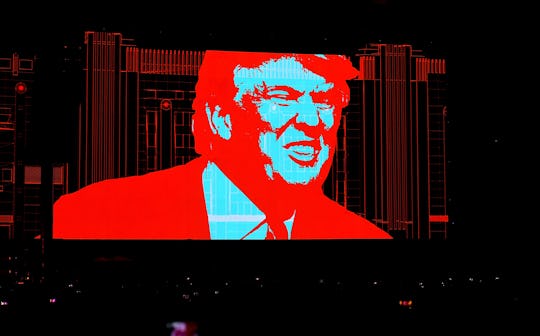 Kevin Winter/Getty Images Entertainment/Getty Images
Will Donald Trump Address Alleged Russian Businesses At The Final Debate?
With the third and final presidential debate right around the corner, supporters of both Democratic presidential nominee Hillary Clinton and Republican presidential nominee Donald Trump are scrambling to unearth evidence that might endanger their opponent's claim to the White House. While the recent allegations of sexual assault against Trump have been dominating the airwaves, another issue might prove equally harmful to Trump, and that's his continued, often bewildering, statements and stances about Russia. More specifically, will Donald Trump address his alleged Russian businesses at the final debate? Given recent discoveries, it certainly seems possible.
On Monday, the Democratic Coalition Against Trump, an anti-Trump PAC, announced that it had allegedly found 249 companies registered in Russia with "Trump" in the name, or Трамп, which is Trump in Cyrillic. According to a Coalition press release, the names of 200 of these companies were reportedly obtained by searching the database of the Russian Federal Tax Service. "The public has a right to know what business interests the Republican nominee for President of the United States has in Russia," Scott Dworkin, Senior Advisor to the Coalition, said in a press release. "These latest findings raise serious questions about whether Trump has a conflict of interest that could put our national security in real jeopardy."
The Coalition has released a list of 200 company names that allegedly include "Trump" and which allegedly derive from searching the Russian Tax Service's database, though none of the unearthed information has been verified as of yet. Romper reached out to the Trump campaign for comment on the alleged business discoveries and is awaiting a response.
These latest reports come on the heels of a number of suspicious alleged connections between Russia and Trump business entities or campaign personnel. According to an analysis of the issue at Time, the Russia connection has been difficult to explicitly draw because while Trump has failed to directly "land a business venture inside Russia," it has also been the case that as American banks stopped providing loans to Trump as a result of his bankruptcies, "the Trump organization was forced to seek financing from non-traditional institutions." As a result of these non-traditional funding routes, "several of Trump's businesses outside of Russia are entangled with Russian financiers inside Putin's circle."
The most infamous case of Trump's reported connections to Russian financiers involved Trump SoHo, a luxury condominium building in Manhattan that led to several lawsuits against Trump, according to The New York Times, including a lawsuit claiming that "Trump SoHo was developed with the undisclosed involvement of convicted felons and financing from questionable sources in Russia and Kazakhstan." Specifically, The Times reported that Trump did business with Tevfik Arif, a former Soviet commerce official. In a deposition, Trump himself said that Arif introduced him, in-person, to a number of "potential Russian investors."
The Times also reported that court documents connected to Trump SoHo litigation alleged that an "Icelandic firm preferred by wealthy Russians 'in favor with' President Vladimir V. Putin" reportedly brokered a sizable investment in Trump SoHo.
Aside from these legalistic minutiae, The Washington Post reported that in 2008, Trump's son, Donald Trump Jr., said during a real estate conference that "Russians make up a pretty disproportionate cross-section of a lot of our assets. We see a lot of money pouring in from Russia."
In addition to these alleged business connections are the various connections between Russia and former and current Trump campaign staffers. The most notable was former campaign chairman Paul Manafort, who reportedly has extensive past business dealings with pro-Russian Ukrainians. This issue came to a truly bizarre conclusion back in August, when Manafort stepped down following reports that he was allegedly behind the start-up of a pro-Ukrainian lobbying group in Washington. (Though Manafort declined to issue a statement, his lawyer told The New York Times, "These are suspicions, and probably heavily politically tinged ones.")
More recently, Trump and many in his campaign have refused to publicly affirm that Russia is likely involved with the Wikileaks hacks of the Democratic National Convention and Hillary Clinton's campaign chairman's emails. At the second presidential debate, Trump said that "maybe there is no hacking," and that "she [Clinton] doesn't know if it's the Russians doing the hacking."
Given all this, it's easy to see why Trump's past pro-Russia, pro-Putin remarks are particularly worrisome. Might a good political relationship with Russia translate into good business deals for The Trump Organization, of which Trump remains chairman and president? This is the question lingering behind the public's ongoing concern about Trump's alleged Russian ties — and it's certainly likely to come up during the debate.