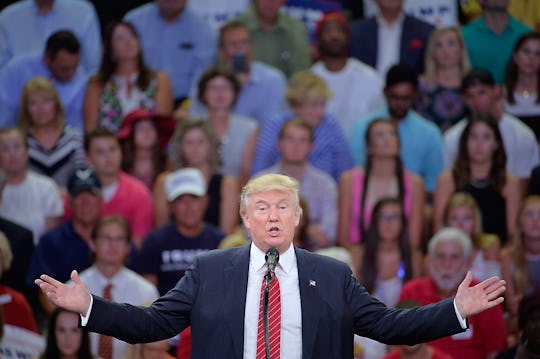 Sara D. Davis/Getty Images News/Getty Images
Will Donald Trump Be Investigated For His Second Amendment Comments? He's Making Waves
The Trump saga gets stranger and stranger as weeks pass by. Just when some of us were finally been able to wrap our heads around the fact that Donald Trump, New York businessman and outspoken television personality, is now the official Republican Presidential candidate, he goes and ups the ante. In the past few weeks alone, Trump has managed to shock us further and better than even the shock jocks of the '90s (and they were pretty damn shocking). This time around though... I don't know, guys. He might have really lost it. So much so, in fact, that some people are wondering if Trump will be investigated for his Second Amendment comments.
At a rally in North Carolina on Tuesday, Trump made some pretty incredible comments about his opponent, Democratic Presidential candidate Hillary Clinton, and the choices she might make concerning the Supreme Court's next justice. According to CNN, Trump claimed that Clinton "wants to abolish, essentially abolish the Second Amendment."
"By the way," he said, "if she gets to pick her judges, nothing you can do, folks." He quickly followed this attack with a not-so-subtle threat: "Although the Second Amendment people — maybe there is, I don't know." The Second Amendment is the right to bear arms, and Trump's comment could potentially be perceived as an invitation to use violence against the former Secretary of State.
The Trump campaign quickly got down to the business of what they seem to be doing best these days; putting out fires for the Man Himself. According to Trump campaign manager Jason Miller, Trump was merely referencing the "power of unification" he sees in the Second Amendment voters:
Second Amendment people have amazing spirit and are tremendously unified, which gives them great political power. And this year, they will be voting in record numbers, and it won't be for Hillary Clinton, it will be for Donald Trump.
The Secret Service followed up with a brief tweet about Trump's comments. "The Secret Service is aware of the comments made earlier this afternoon," spokespersons wrote.
This wouldn't be the first time the Secret Service looked into the Trump campaign. New Jersey State Representative Al Baldasaro, reportedly an informal advisor to Donald Trump on veterans' issues, told a radio host in July that Clinton "should be put in the firing line and shot for treason." While Trump spokeswoman Hope Hicks said that Trump "does not agree with those statements," the Secret Service again issued a statement saying, "The U.S. Secret Service is aware of this matter and will conduct the appropriate investigation."
Whether Trump will be investigated for his Second Amendment comments or not, he still has the support of many of his followers. Buzzfeed News checked in with Trump supporters after the rally to hear their reactions.
"I think he meant that, because the NRA is powerful, a lobbying group, they'll go in and make sure it doesn't happen," said J.T. Meyer, a 31-year-old bar owner and graphic designer.
Jon Gardiner, a 62-year-old retired firefighter, explained that Trump simply doesn't understand the cutthroat world of politics.
"He's not used to every word being scrutinized — he's used to boardrooms. He doesn't realize this is part of political life. This is just like what he said about Russia and Clinton's emails."
Generally speaking, the supporters figured Trump was just sort of kidding around. He shouldn't be taken seriously, guys.
After all, he's only running for President of the United States.