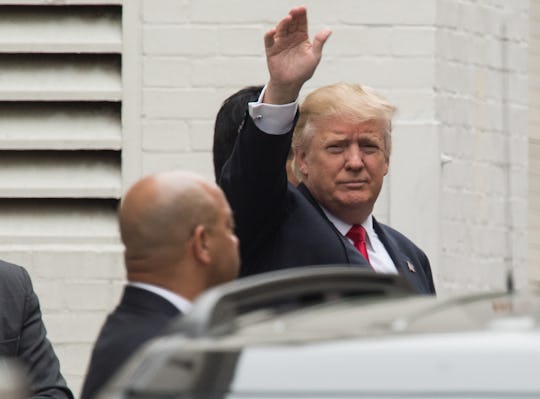 NICHOLAS KAMM/AFP/Getty Images
Will Donald Trump Choose A Female Running Mate? He Needs All The Help He Can Get
Since Donald Trump became the presumptive Republican presidential nominee, many have been wondering who the real estate mogul will choose as his running mate. News, rumors, and questions, like, if Trump will choose a female running mate, have circulated around Trump's second-in-command pick. A woman running mate would certainly be an interesting pick for Trump, who has criticized former Secretary of State Hillary Clinton for playing the "woman card," but it seems only time will tell.
In an interview with the Associated Press, Trump indicated that he narrowed down his list of potential running mates to five or six people. Though there's no confirmation on who that group consists of, Trump did reveal that he's looking for a running mate with deep political experience, unlike himself, the AP reported. But the winning running mate pick with the political experience Trump is looking for won't be announced until the Republican National Convention in Ohio, a four-day event from July 18 to July 21.
Retired neurosurgeon and former presidential candidate, Ben Carson, sent the news media, and Republican voters, abuzz when he seemingly revealed the names of Trump's list of potential running mates. In an interview with The Washington Post, when asked about a poll – naming himself, Marco Rubio, Sarah Palin, Ted Cruz, John Kasich, and Chris Christie, as potential running mates – Carson responded saying, "those are all people on our list." After the news circulated, especially around mention of Palin, the former Alaskan governor and GOP vice presidential running mate to Arizona Sen. John McCain, he later clarified that the people mentioned weren't necessarily "on the shortlist."
And of course, Trump took to Twitter to reject some of those claims.
The thought of Palin reappearing as a running mate in a general election, where in this election cycle she's already made public appearances and speeches that haven't gone over well (to say the least) among the Republican party, sent the media into a frenzy. But Palin herself, in an interview with CNN, noted that she could potentially "hurt" the Trump campaign by turning off voters who stand by an "anybody-but-Palin" policy.
But aside from Palin, choosing a woman running mate would make things interesting for Trump. According to a CNN/ORC poll in mid-March, 73 percent of women voters expressed having a negative view of Trump. That percentage has increased by 14 percent since a previous poll in December. And Trump hasn't exactly had the best history with expressing positive views on woman — in fact, they have been historically bad. Really bad. In an ad, obtained by The Huffington Post and released by a super PAC supporting presidential candidate Hillary Clinton, men and women lip sync some of Trump's brutal and problematic statements against women. The following is just one example of the sexist, problematic remarks highlighted in the video: "Did she have a good body? No. Did she have a fat ass? Absolutely."
There's no telling if Trump will choose a woman to be his running mate. He has previously ruled out South Carolina Gov. Nikki Haley, who previously endorsed former presidential candidate, Florida Sen. Marco Rubio. And, there's no telling whether picking a woman at this point would even boost his numbers with women in the general election. There's only so much speculation that can be done until Trump announces his pick in July. Perhaps he'll do it in The Celebrity Apprentice-style. Dun dun dun.