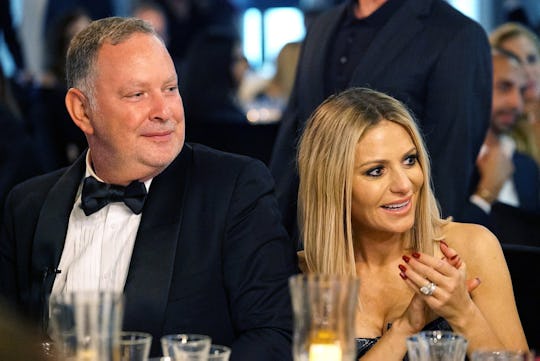 Nicole Weingart/Bravo
'RHOBH' Season 9 Wouldn't Be The Same Without Dorit Kemsley
If there was one takeaway from The Real Housewives of Beverly Hills Season 8, it was that Dorit Kemsley isn't allergic to drama. In fact, she found herself at the center of a lot of it this year. Given all of the feuds with Camille, Teddi, and even Lisa Vanderpump for a bit, some fans may find themselves wondering if she'll be back for more next year. Will Dorit Kemsley return for RHOBH Season 9? While I realize this is still a little early to wonder about this, she's actually already thought about it.
This was Dorit's second season on the show and she did not back down from being a "pot stirrer," as her fellow cast members called her on a recent episode of Watch What Happens Live. Last year, there was "Pantygate." This year, her and Teddi seemed to butt heads from the very beginning, after Dorit arrived late to a lunch date and they disagreed about exactly how late she was. Things just went downhill from there for the bathing suit designer.
After she called Camille the C-word at a dinner party, the two had some beef on and off screen. And she was at the center of a whole lot of misunderstandings with Kyle and Lisa Vanderpump, too. It had to be stressful watching it all back on national television. Which is why she might be having second thoughts about coming back for another round.
Dorit told Entertainment Tonight just ahead of the season finale, "I think once we finish the season, my husband and I can sit down and have a chat and see where we are in our lives and what we want to do. I would like to take a vacation [first]!" Cryptic, right?
Don't fret if you love Dorit and her ever-changing accent. She said that just before the season finale and prior to the reunion, so there's still time for her to make up her mind. And if you ask me, she enjoys hanging out with the "girls," as she calls them, too much to call it quits after just two seasons. That doesn't mean it wasn't hard for her, though. She told ET:
I think that in this world, you know, there's always a villain and maybe it was just my time. I think things get blown out of proportion, of course, and thank goodness we're not talking about anything that's really dire. You know, a glass, a miscommunication on time.
She added that, "It's like death by a thousand paper cuts."
To hear Dorit recount the season, though, it did take an emotional toll on her. And she really doesn't think she's much of a meddler or drama-starter as people think. She added in the same interview about her fight with Camille:
It was just a very silly moment that unfortunately happened and you have to pay the price afterwards. It was so out of left field that one would have thought that it may not have even made it [on the show], because there was nothing behind it. But here's to being a rookie, you realize of course it's gonna make it.
But her biggest beef this season was with the newest cast member, Teddi, who also seems to be on the fence about coming back for another round. Teddi and Dorit butted heads to begin with and although Dorit named one of her swimsuits after each of the RHOBH, Teddi didn't get a signature suit. (Neither did Camille, for what it's worth.) Dorit said of the snub, according to Yahoo!:
I didn't name a suit after her, but quite honestly, it's a swimwear line, there's — please, god! — many collections to come, and I'm sure there'll be a Teddi at some point in there. Maybe not Teddi Mellencamp, but there will be a Teddi. Just kidding!
There's always something with Dorit, right? I bet that after a much needed vacation and a few glasses of champagne — in the right glassware, of course — she'll be ready to make a comeback. Hopefully with an even bigger spoon to stir the pot with, because that's the whole point, right?
Check out Romper's new video series, Romper's Doula Diaries:
Watch full episodes of Romper's Doula Diaries on Facebook Watch.