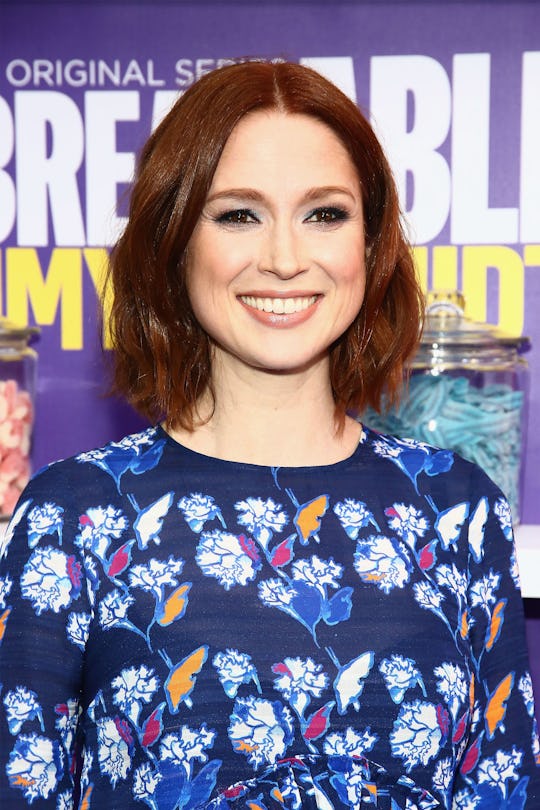 Astrid Stawiarz/Getty Images Entertainment/Getty Images
Will Ellie Kemper's Pregnancy Affect 'Unbreakable Kimmy Schmidt'? Tina Fey Thanked Her
It looks like Kimmy might be going back in the bunker for the summer (except not really). Ellie Kemper, also known as the Unbreakable Kimmy Schmidt, announced last week that she is expecting her first baby with husband Michael Koman. Other than the fact that the effervescent actress will probably be the most adorable pregnant woman alive, fans also want to know if Kemper's pregnancy will affect Unbreakable Kimmy Schmidt.
The critically-acclaimed Netflix original series, created by 30 Rock alumni Tina Fey and Robert Carlock, was renewed in January 2016 for its third season. The show follows Kimmy Schmidt, a woman who has been living in a bomb shelter for 15 years, thinking the world had come to an end, as she navigates present-day Manhattan. Fey spoke at a Tribeca Film Festival on Tuesday about Kemper's pregnancy, joking that she is thankful to the Unbreakable Kimmy Schmidt-star for getting pregnant so that she can take the summer to focus on another project: Mean Girls: The Musical. Fey has reportedly been too busy to focus her energy on the Mean Girls:The Musical project, but now it looks like she might have a little time. According to People, Fey said, "Thanks to Ellie Kemper's pregnancy, we have this whole summer to focus on it."
Kemper publicly announced her pregnancy to Jimmy Fallon on Late Night With Jimmy Fallon, who congratulated her with some Ben and Jerry's Tonight Dough ice cream, a chocolate and peanut butter cookie dough-flavored ice cream I was not made privy to until just now.
Kemper tried to keep her pregnancy under wraps on set in the early days, but had to confess to Fey when she realized the writers were planning on an episode of Kimmy riding the Rip Ride Rocket, a notoriously high roller coaster.
Kemper told Fallon, "I told Tina before I told my mom. You can trust Tina. You cannot trust my mom."
Fey has no plans to write a pregnancy into the show, although she was considering the idea in Season 2. She wrote a scene in which the perpetually innocent Kimmy loses her virginity, according to People, as a cautionary measure. "I was, a little bit protecting myself in case we needed an on-camera pregnancy," she said.
It turns out Kemper is basically the most thoughtful employee a girl could ask for. Her baby is not due until August, which falls between filming seasons. You have to respect Fey for not even considering doing one of those "hiding behind my briefcase" pregnancy fails from sitcoms past. Always so awkward.
So basically, everything should work out perfectly for Unbreakable Kimmy Schmidt fans. No interruption in filming, a brand new season to enjoy, and another on the way. Ain't life grand?