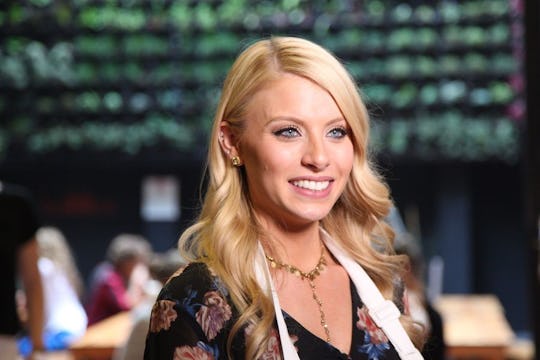 ABC/Eniac Martinez
Will Emily's Job Title On 'The Bachelor' Change? After This Week's Episode, It Probably Should
Fans of the long-running ABC reality dating competition The Bachelor were amused this season to see that two of the contestants, sisters Haley and Emily Ferguson, had "twin" listed as their official job titles. Of course, the funny, outgoing Las Vegas natives had much more going for them than just that, but The Bachelor tends to keep job titles funny and distinctive to keep viewers entertained, and Emily and Haley were no exception (remember, one of the contestants this season was described as a "chicken enthusiast", after all). Still, after this week's episode, will Emily's job title on The Bachelor change? Given everything that's happened, perhaps it should.
We're a few weeks into the 20th season of the show and already, more than half of the original 28 contestants have been sent home, according to PopSugar. This week, Ben Higgins and the 14 remaining bachelorettes headed to Las Vegas for four more dates, which included a group date with all of the bachelorettes and two romantic one-on-one dates with contestants Olivia and Becca Tilley. In a twist, Higgins also asked for a two-on-one date with Haley and Emily Ferguson, since they grew up in Vegas. Together, the three headed to the twins' mother's house and Higgins got to know the women a little better by having a chat with their mom.
Sadly, by the end of the home-visit, it was determined that one of the Ferguson twins wouldn't be going back to the mansion for the next episode. In what has to be one of the worst breakup scenarios in human history, Higgins said goodbye to twin Haley in front of an audience of millions. That probably would have been bad enough, but the rejection also took place in front of Haley's twin sister, who's still in the running for Higgins' final rose.
I don't know what's worse: choosing one woman over her identical twin sister, or telling a woman she's not the one for you with her mother watching. The only possible bright spot is that, for anyone who might have been having a hard time telling the Ferguson twins apart, the struggle is finally over.
All of that means Emily Ferguson might need to rethink her official Bachelor job title. Of course, the Ferguson women have plenty of occupations and interests going for them, so finding a new designated title shouldn't prove too difficult.
At the moment (and when not in competition for Higgins' hand), both sisters work as cocktail waitresses at the Cosmopolitan La Marquee in Las Vegas and run Blondsense, a popular lifestyle blog covering fashion, recipes, and beauty. Emily Ferguson could easily change her job title to "fashion blogger," "fashionista," or "style guru" and keep the spotlight shining her way (and on her actual accomplishments this time).
Next week, Higgins and the remaining bachelorettes will head to Mexico, according to ABC. Let's just hope that things get better for Emily from here on out.
Images: ABC/Eniac Martinez