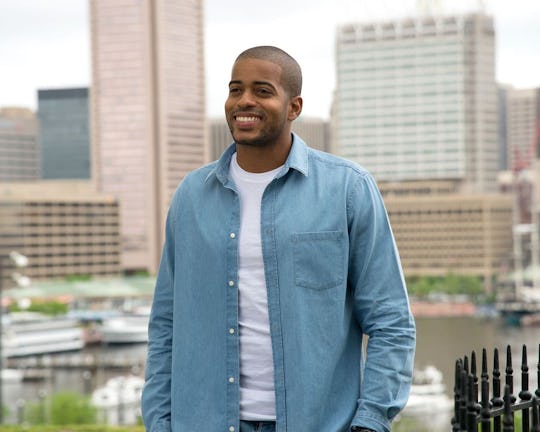 Randy Sager/ABC
Fans Want More Of Eric Bigger From 'The Bachelorette' Already
As hard as it might be for some serious Eric fans to hear, the truth of the matter is that Eric might not end up with Rachel on The Bachelorette. If she lets her worries about his lack of relationship experience get the best of her, then we might be looking at a Peter and Bryan final two situation. So if that happens, will Eric be on Bachelor in Paradise then?
Since he might not end up with Rachel, there's a good chance that producers may have invited him to paradise shortly after getting the boot on The Bachelorette. Bachelor in Paradise has a core cast and newbies peppered in throughout the week, so it's entirely possible that Eric will be on Bachelor in Paradise come its Season 4 premiere on August 14.
Back in June, TMZ caught up with Eric to ask his thoughts on the Bachelor in Paradise scandal regarding Corinne Olympios and DeMario Jackson, the latter of whom was on Eric's season of The Bachelorette. And while Eric didn't outright say that he was there to witness whatever went down between the contestants poolside, the fact that TMZ asked his opinions on the matter shows that there's a good chance Eric made it to paradise after The Bachelorette. "It's a little mix, it's a little different," Eric said of the atmosphere on Bachelor in Paradise and he wouldn't know that for sure unless he was there, right?
Obviously the best place for a guy with a newly broken heart probably isn't a Mexico resort where the women are looking for actual relationships and not rebound flings, but if Dean is on Bachelor in Paradise, it's totally plausible that Eric followed suit.
The announcements of the men from Rachel's season who have gone on to participate in Season 4 of Bachelor in Paradise usually aren't made until after their departure from The Bachelorette, so there's been no confirmation as of yet. But if Eric goes home Monday night, there's a good chance he'll pop up near the end of the season on Bachelor in Paradise, if only as a sort of consolation prize. And the fans definitely love him.
Eric's never been in love (unless you count telling Rachel he's in love with her), but luckily that's not necessarily a prerequisite for Bachelor in Paradise. If you're like Carly Waddell and Evan Bass, you'll find actual love on the show, but at the very least, Eric can get another chance to find something good after he leaves The Bachelorette with a broken heart.