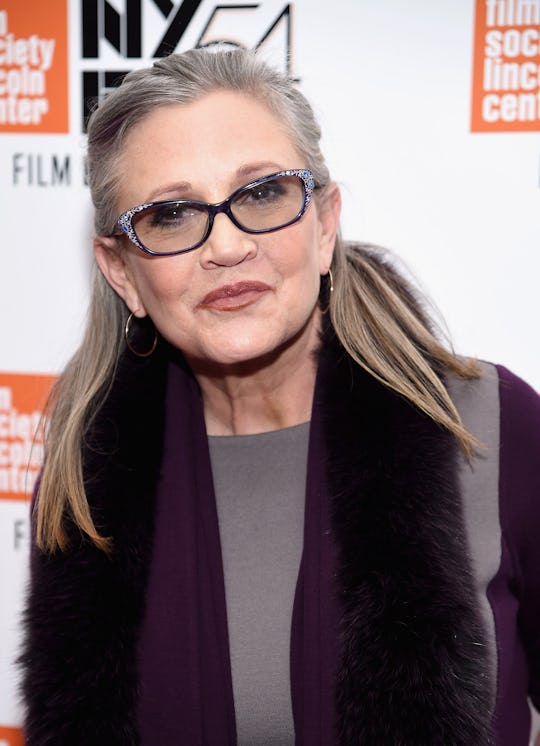 Dimitrios Kambouris/Getty Images Entertainment/Getty Images
Carrie Fisher Will Return As Leia In "Star Wars" IX
We all remember when Carrie Fisher died at the end of 2016; as sad and shocking and awful as last year was, her death somehow felt like the last nail in the coffin. Not only was the world losing a brilliant actress, writer, and advocate for mental health, we lost our one and only Princess Leia. For so many of us, Leia represented a totally new generation of women in movies; strong and smart, sensitive and independent, not unlike Fisher herself. So when word hit the street that Fisher filmed her last scenes for Star Wars: The Last Jedi, it felt like a small compensation. Perhaps we have not yet seen the last of Princess Leia. Or Carrie Fisher.
Lucasfilm and Disney had already made a commitment to Star Wars fans that they would not be recreating Leia (or General Leia Organa as she was billed in Star Wars: The Force Awakens) via CGI effects, as happened with the late Phillip Seymour Hoffman in The Hunger Games: The Mockingjay Part 2. In a statement released in the aftermath of Fisher's sudden death in December, Lucasfilm said:
We don't normally respond to fan or press speculation, but there is a rumor circulating that we would like to address. We want to assure our fans that Lucasfilm has no plans to digitally recreate Carrie Fisher's performance as Princess or General Leia Organa.
Carrie Fisher was, is, and always will be a part of the Lucasfilm family. She was our princess, our general, and more importantly, our friend. We are still hurting from her loss. We cherish her memory and legacy as Princess Leia, and will always strive to honor everything she gave to Star Wars.
While Fisher had previous footage she had filmed for the ninth installment of the Star Wars saga, studio execs were waiting on the Fisher family's permission to go ahead and add that footage to the film. As of Friday night, according to her brother, Todd Fisher, that permission has been granted.
Along with her daughter, actress Billie Lourd, Todd Fisher told The New York Daily News that he had given Lucasfilms and Disney the green light to use recent footage for the final film. At a movie premiere in Los Angeles, Fisher told the news outlet:
She's as much a part of it as anything and I think her presence now is even more powerful than it was, like Obi Wan — when the saber cuts him down he becomes more powerful. I feel like that's what's happened with Carrie. I think the legacy should continue.
Fisher's legacy, it seems, will live on.
May the force be with her.