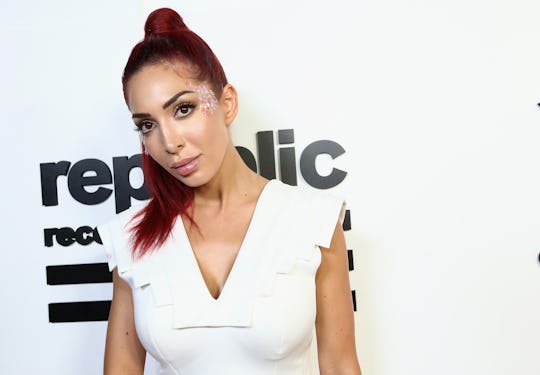 Tommaso Boddi/Getty Images Entertainment/Getty Images
Here's Why You Probably Won't See Farrah Abraham At The 'Teen Mom OG' Reunion
Farrah Abraham made a name for herself on MTV's 16 and Pregnant and Teen Mom , but recently she's been at odds with the network owned by Viacom. After they reportedly replaced her with Mackenzie McKee this week on Teen Mom OG, some fans are wondering whether or not Farrah Abraham will go to the Teen Mom OG reunion.
Both MTV and Abraham did not immediately respond to Romper's request for comment. However, Abraham told Us Weekly in an exclusive statement on Wednesday that she wouldn't be taking the stage with her former cast mates. She told the publication, "MTV is not allowing me to attend the reunion, and my dad won't attend if I don't go. I can't speak for my mom." According to Us Weekly's report, a source close to the 26-year-old reality star said that her family could possibly attend in her absence.
Given that Abraham is reportedly suing Viacom for terminating her position on the show, it's highly unlikely that she, or anyone from her family, will make the reunion. As reported by E! News, Abraham has filed a $5 million lawsuit against Viacom and the two production companies, Eleventh Street Productions and Anxious Eleven, behind the show, along with Teen Mom producer Morgan J. Freeman.
Abraham's alleging gender discrimination and that the Teen Mom team "harassed, humiliated and discriminated against, disrespected, ridiculed and sex shamed" her for embarking on a career in the adult entertainment industry during an Oct. 30 meeting, according to reports from E! News and TMZ.
Variety reported that the lawsuit alleges that as a result of that meeting, she chose not to "conform to their gender stereotypes of how women should act and appear" and was cut from the Teen Mom OG season and that the network "pulled the plug" on a "lucrative" deal that they had been working on for months, in retaliation for filing an internal complaint against Freeman.
She's suing for financial damages as well as for "emotional pain, emotional suffering, inconvenience, mental anguish and loss of enjoyment of life" in the wake of the meeting. Although Viacom didn't respond to Romper's request for comment, it previously issued a statement to the New York Daily News saying, "We respect Farrah's decision to pursue other endeavors and we wish her the best. Regarding her suit, the claims are without merit."
In January, Abraham issued a statement on Instagram saying:
Never apologize for being an ambitious, confident, and strong minded women, as I become the best Farrah I can be, I won't let a man or network be little me, try to break me, lie about who I am to my core, I'm bullied, surrounded & hurt by all the manipulation, I no longer will allow as a protective mother this vulgar behavior, these crews aren't trust worthy this "mtv family" is a disgusting gang of power tripping failed producers & executives who have failed.
Fans Have Mixed Feelings About Her Ongoing 'Battle' With MTV
Although Abraham is someone people love to hate sometimes as a reality star, it's not uncommon for those who work in the adult entertainment industry or as sex workers to be discriminated against. Even if there is no merit to Abraham's suit, Tasha Reign, the chairperson of the Adult Performer Advocacy Committee, told Vice's Broadly when news of the lawsuit broke last week that, "Every single person in the adult film industry is shamed every day on a regular basis for the work that they do." She added:
It sounds like something that may or may not have a huge effect, but we've had five suicides in two months, and a lot of it has to do with the fact that the only minority group in America that's allowed to be absolutely degraded and abused is the adult performer.
This week, Abraham told Us Weekly that she wasn't disappearing from TV screens just yet and didn't have any more bad blood towards the Teen Mom franchise. Well, sort of. According to Us Weekly, she said:
I wish them all the best with the show. I'm out on a high note. This is the longest season in history and I'm their biggest star. I can do my own show, but I don't want to focus on reality TV. ... I don't know what the show is doing. You could take all the girls on all the series, but none can bring or do as much as I do for the series.
She added that she was thinking about doing some scripted TV projects but "always enjoy[s] a good reality TV project." Hopefully, with so many things going on at the moment, she and the beloved MTV series can get things settled and move on to the next chapter.
Check out Romper's new video series, Romper's Doula Diaries:
Watch full episodes of Romper's Doula Diaries on Facebook Watch.