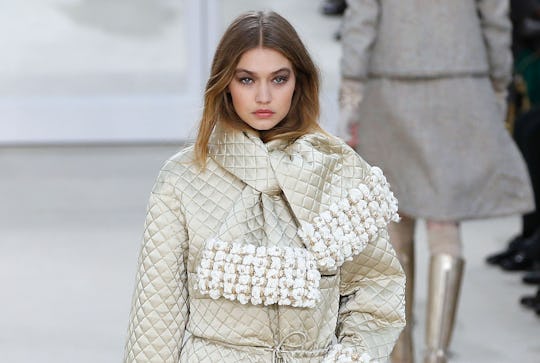 PATRICK KOVARIK/AFP/Getty Images
Will Gigi Hadid Bring Zayn Malik To The MTV Movie Awards? The New It Couple Is Adorable
The hardest part about scrolling through pictures of model Gigi Hadid and her newly minted boyfriend, former One Direction star Zayn Malik? I can never quite decide who is more beautiful. The social media darling is slated to present at the 2016 MTV Movie Awards on Sunday, but people really want to know if Gigi Hadid will bring Zayn to the MTV Movie Awards.
Fashion's newest "It" couple just returned from a romantic weekend in Naples, Italy, that just happened to be caught on camera by Vogue. Hopefully they aren't too exhausted from their epic photo shoot with famed high fashion photographer Mario Testino to go full glam for us at the MTV Movie Awards. Lord knows they looked like they were having way too much fun. The couple (who has only been dating since November 2015, though to be fair that's a pretty long time in Hollywood) has been enjoying a very public affair for the past few months, so chances are they won't exactly shy away from the red carpet. They've also earned themselves one of the most coveted things a Hollywood couple can hope for — a cutesy portmanteau (the fancy word for a nickname). Ladies and gentlemen, I give you, "Zigi."
While Hadid has not confirmed who she will be bringing along as her date to the MTV Movie Awards, fans are hopeful that the Zigi lovefest continues. Although, let's get real here, Hadid has options. Like, phenomenal options. Hadid is famous for being part of Taylor Swift's super-empowered (not to mention well-populated) squad, so there is the possibility that she might bring along a different famous friend. Could it be Kendall Jenner? Swift? Hadid told Elle Canada she's proud of her #squadgoals, so she might just want to show them off:
We talk about it a lot; it's a conversation we often have. We want to be the generation and the group of friends known for supporting each other. 'Squad Goals' is a big social-media thing right now, and that's what we want to inspire in other groups of friends — to be proud of the power you all have when you're together, which can be amplified so much by each person. That's what has been cool about everyone's willingness to be there for each other, and we don't want to be like other generations who are infamous for their cattiness. That was cool and it worked for them and they were great. We just want to be the new generation.
So I think Hadid should just go for the most fun option: she should bring everyone to the awards. Her squad, her man, her parents, her sister and brother. I'm pretty sure the big wigs at the MTV Movie Awards will be OK with it. Hadid could start a trend (and I'm not talking about all the adorable gingham she wore for the Vogue shoot, even though it was pretty great). You don't have to pick your squad or your partner. You can have it all.
I mean, those are actually a few #lifegoals, right?