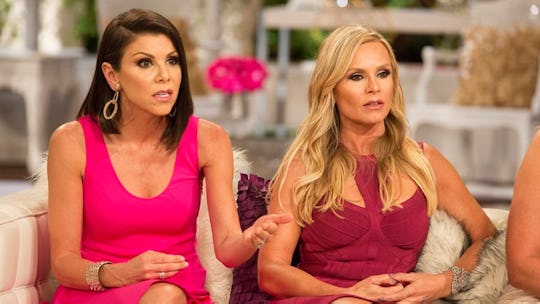 Isabella Vosmikova/Bravo
Heather Dubrow's Days On 'RHOC' May Not Be Entirely Over
Former Real Housewife of Orange County Heather Dubrow disappointed Dubrow Chateau fans everywhere when she announced back in January that she would not be returning to the show for its newest season. But as we know from the return tours of RHONY's Bethenny Frankel, RHONJ's Dina Manzo, and of course RHOA's Nene Leakes, nothing is forever in the world of the 'Wives. Cast members leave and come back to their shows all the time, it's practically as common as wine throwing and shady glances. So will Heather Dubrow Return to Real Housewives of Orange County?
When the news initially broke that she would not be coming back to the show, Heather explained why she decided to leave RHOC like any true millennial would: on her podcast, Heather Dubrow's World. The decision, Dubrow said, was entirely her own, coming down to what was best for her children, as she "felt like they need to make their own decision about being on television and exposing their lives." She went on to add, "And for me personally, I have some really cool, interesting opportunities that I want to explore." A cast member since Season 7 and someone with reliably GIF-worthy reactions, this came as a shock to people.
So will Heather ever consider joining the ranks among returning Housewives? In an exclusive statement to Bravo's The Daily Dish, Heather said she might consider coming back, but not any time soon, though she has apparently been assured by the network and Andy Cohen that she would be welcome back whenever.
"After a lot of careful thought and deliberation, I have decided not to return to RHOC this season. These past 5 years have been an incredible journey and I'm so proud to have been a part of such an iconic piece of pop culture," Dubrow said. "However, at this point in my life, I have decided to go in another direction and do what's best for my family and career. Should I change my mind, I thank Andy Cohen, Evolution and Bravo for telling me that the door is always open."
Which means, in Housewives language, never say never! For any fans who are really missing her, Heather is very active on social media. While she hasn't announced what her "new opportunities" are just yet, I know from her time on RHOC that Heather is one to go big or go home, so they're bound to be great. In the meantime, champagne doorbell, anyone?