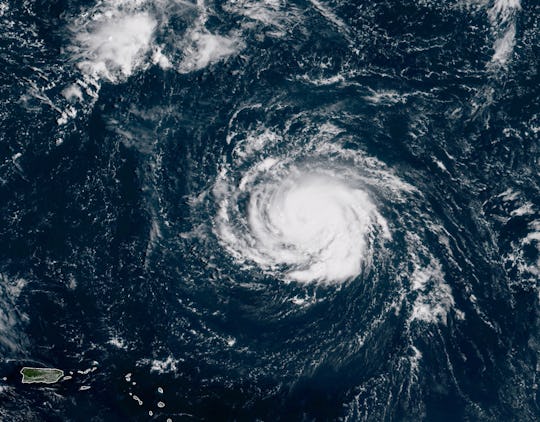 Handout/Getty Images News/Getty Images
Will Hurricane Florence Hit Florida? Here's What You Need To Know
Hurricane preparations are no small task. Storm shutters must be properly hung, and stocking up on food can be a hassle amidst crowds and bare shelves. So before undertaking some significant work, what many residents of the southeastern seaboard are still waiting to hear is whether Hurricane Florence is expected to hit Florida this week.
In its latest advisory on Monday, the National Hurricane Center confirmed its expectation that Hurricane Florence will impact the coast in a major way, but experts do not think the storm has Florida in its cross hairs at this time. Of course storm tracks can change quickly, but the current models suggest that Hurricane Florence is going to make landfall later this week on the coast of North or South Carolina, according to the NHC.
North Carolina's Hatteras and Ocracoke islands have been ordered to evacuate and some other parts of the outer banks are under mandatory evacuations starting Tuesday morning, according to Washington D.C. News WTOP. South Carolina has also ordered nearly 1 million people to evacuate the coast, according to Reuters.
This storm is of grave concern because current wind speeds place it as a Category 3 storm, which is expected to strengthen to a Category 4, as CNN reported on Monday. That means it's capable of catastrophic damage with winds ranging from 130 to 156 mph, according to TIME.
Category 4 storms carry high risk of injury to people and animals from blowing or falling debris. Even newer mobile homes are likely to be destroyed, while some frame houses could collapse or have significant damage, according to TIME. Most trees could be blown down, along with power lines. Windows on high-rise buildings are expected to be blown out, and water shortages are common following a storm of this magnitude.
An additional concern with Hurricane Florence will be inland flooding, according to The Weather Channel. In a news update, meteorologist Heather Tesch explained that areas of the mid-Atlantic coast have been repeatedly hit with heavy rain all summer and are already saturated. Some have received between 150 and 300 percent of their normal rainfall over the summer, The Washington Post reported. Additional areas downstream of Hurricane Florence could be affected even if they miss the punch of the storm itself, according to The Weather Channel.
Researchers are also watching for any signs that the storm may slow as it approaches or once it hits land, stalling out into extended rainfall. That's a strong possibility, as The Washington Post reported, which hearkens back to the record-setting destruction of Hurricane Harvey in Houston in 2017. Forecasters are concerned about potential for one to two feet of rain in north-central North Carolina and southwestern Virginia, according to The Washington Post. WTOP noted that a spokesman for the Virginia office of emergency management urged a reminder that Virginia's deadliest storm, Camille, killed 150 in 1969 due to flooding.
With a couple of days left to prepare, what are the best practices for those in the path of a storm this size? The Department of Homeland Security keeps a comprehensive list of things to consider, including a few things that could be overlooked in the midst of worry and pressing family needs. Be sure to sign up for the community's warning system, check your car to be sure it's in good operating condition, and review the closest evacuation centers and routes with the entire family in mind. Plan for the family to potentially be separated if someone is away from the house, and have a contingency for getting in touch. If flooding occurs, know the highest nearby ground that can be gotten to, often an attic or upper level.
For supplies, stock up on three days-worth of food and water, one gallon per day per family member, as the Department of Homeland Security advises. Additionally, according to the Department of Homeland Security, be sure there are enough medications on hand to last for several days and have a first aid kit and a hand-crank or battery-powered radio ready.
Be smart, and as much as it is within your power, it's time to be hurricane-safe.