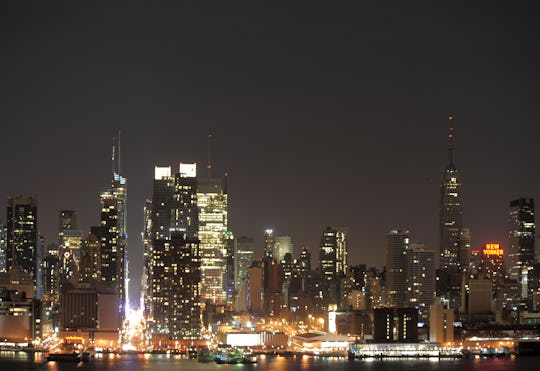 Michael Loccisano/Getty Images
Will ISIS Attack New York City? New Video Hints That Times Square Is The Next Target
According to CBS News, the NYPD became aware on Wednesday of a new ISIS video that hints at a Times Square attack. Though the propaganda video doesn't directly state an attack is imminent, the footage — which was posted online Wednesday afternoon by several different sources — used images of Times Square along with recent comments made by French President François Hollande after the Paris terror attacks last week. In between flashing images of New York's busy Times Square — teeming with tourists and Yellow Taxi cabs — the video showed one last frightening image: A man, in a different location, who appeared to be strapping an explosive device to his body.
While the video certainly seems to imply that a suicide attack is heading straight for the heart of NYC, the NYPD insisted otherwise in a statement made just this afternoon. urged the public to not be alarmed. In the statement, the NYPD's Deputy Commissioner of Public Information Stephen Davis tried to reassure the public:
While some of the video footage is not new, the video reaffirms the message that New York City remains a top terrorist target. While there is no current or specific threat to the City at this time, we will remain at a heightened state of vigilance and will continue to work with the FBI, the Joint Terrorism Task Force and the entire intelligence community to keep the City of New York safe. In addition, we are continuing to deploy additional Critical Response Command (CRC) teams throughout the City, out of an abundance of caution.
The video comes just days after another ISIS video was released on Sunday, warning of another attack on the U.S. in Washington D.C. In the wake of that threat, D.C. has taken various steps towards strengthening safety measures — including enhanced surveillance for the Metro and Amtrak train lines, an increase in the number of security personnel on the ground, and the addition of more than 20 police dog teams to conduct sweeps around rail stations.
As for how likely a U.S. attack would be in the coming days? The experts seem to suggest not very. For one, it's logistically harder for ISIS to strike in the U.S. for basic geographical reasons. "There are oceans between us and ISIS," former White House official Heather Hurlburt told the Guardian Wednesday. "That sounds kind of dumb, but when you're talking about logistically sophisticated attacks it's non-trivial." The Guardian also reports that security screening between the Middle East and the U.S. has become so intense, it's far less likely for a terrorist to pass into the country undetected.
In the meantime though, the NYPD has vowed to stay vigilant, and CNN reports that the city is ramping up its security while on high alert.
This story is developing...
Image: Michael Loccisano/Getty Images