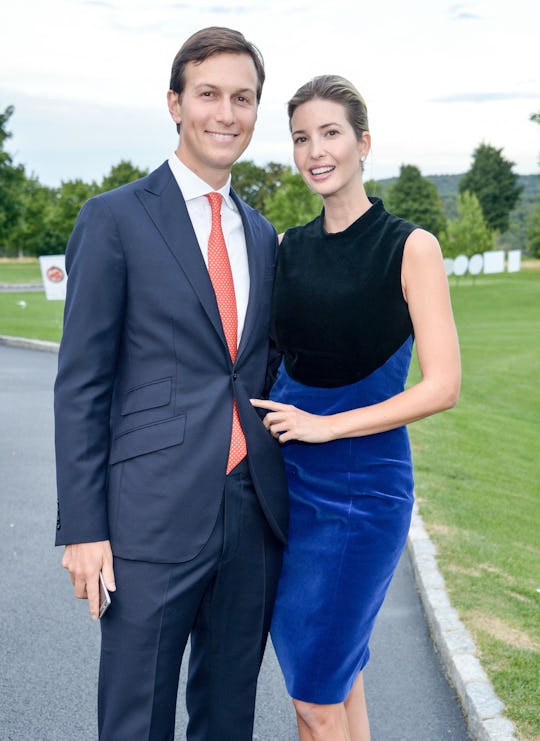 Grant Lamos IV/Getty Images Entertainment/Getty Images
Will Ivanka Trump & Jared Kushner Have More Kids? They're The Ultimate Power Parents
In the world of power parents, there are levels. Like, Ryan Gosling and Eva Mendes would maybe be considered low-level (given how low-key and cozy they are), Ryan Reynolds and Blake Lively perhaps mid-level (based on Reynolds' insane Twitter game), and then there's Ivanka Trump and Jared Kushner. They're off the charts. As the couple continue to help Ivanka's father, President-elect Donald Trump, transition his way into the White House, one must wonder how they have time to do anything? With that in mind, I'm wondering if Ivanka and Kushner are planning on having more kids — because I feel like that would be really great for their power parent ratings.
Kushner and Trump are already parents to three kids; 5-year-old Arabella Rose, 2-year-old Joseph Frederick, and 8-month-old Theodore James. Not only has Ivanka been incredibly vocal about the challenges of raising children, she has managed to become a political champion for working moms, even if some of her policies have been criticized as unhelpful for middle class and low-income moms and dads. Her father, President-elect Trump, has reportedly leaned heavily on his daughter's advice to create his childcare platform, arguably the most comprehensive platform (other than the whole wall thing) in his campaign. Ivanka and husband Kushner both run successful businesses and have been instrumental in President-elect Trump's campaign. So how is Ivanka doing with all of this superhero-level multitasking?
"My life is chaotic right now," she told People back in July. "I'm exhausted 90 percent of the time."
Ivanka might not have the energy to have any more kids for awhile, especially considering she continues to be one of her father's top advisers along with brothers Donald Jr. and Eric Trump. And let's face it, that seems like a parenting job all on it's own.
Ivanka and her family are busy trying to adjust to life as a family of five, and as she told People in an interview:
I think everyone has to work extra hard to make the older siblings feel loved and secure of their place when you're going through a time of transition. I try to carve out special time with each of them. Joseph loves playing with cars. Arabella could read with me for hours. Poor Theo. He's always the one where they're interrupting his time with me. But ultimately I think it will be good for him.
Trump and Kushner aren't saying if they want to expand their brood at this point, and who could blame them? With three kids under the age of 5, and trying to train a giant "kid" on how to run the White House, I think these power parents have their hands full already.