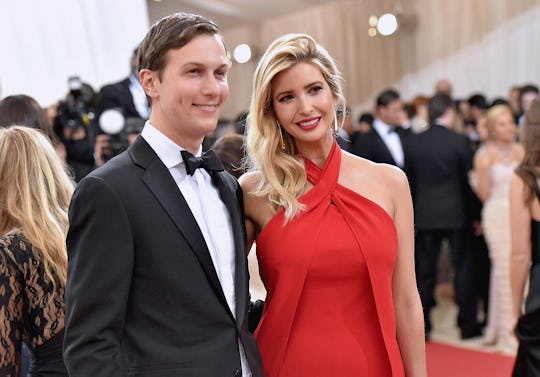 Mike Coppola/Getty Images Entertainment/Getty Images
Will Ivanka Trump Work & Jared Kushner Work Together?
Ivanka Trump has officially taken a formal White House position. While President Donald Trump's daughter initially stated she would not be a part of her father's administration, the White House confirmed recently that Ivanka will now serve as an official government employee. Her new title is "special assistant to the president" and she will closely advise her father throughout his presidency. Her position will be unpaid, as well as subject to federal ethics rules. Ivanka is in a unique position, though, because her father isn't her only family member working in the White House. Her husband, Jared Kushner, serves as a senior adviser to the president. This begs the question: Will Ivanka be working with Kushner in the White House? The married couple will both be advising the president, however, it's unclear just how much their roles with overlap.
Kushner has been a key adviser to the president since the early days of the election. After President Trump was elected, Kushner continued to advise his father-in-law throughout the transition period and straight into the White House. He's been an official part of the Trump Administration longer than his wife, however, Ivanka has remained close to her father's side since he took office. Ivanka had even been serving as an informal adviser to her father, with an office in the West Wing not far from her husband's, before making her position official on Wednesday.
Just before Ivanka announced she would be serving as special assistant to the president, the White House announced that Kushner would be serving in an expanded capacity. The president tapped his son-in-law to lead the newly established White House Office of American Innovation. The Washington Post describes this office as "a SWAT team of strategic consultants, the office will be staffed by former business executives and is designed to infuse fresh thinking into Washington, float above the daily political grind and create a lasting legacy for a president still searching for signature achievements." With this new role, Kushner's responsibilities in the White House now include reforming the Veterans Administration, foreign policy concerning Israel and Palestine, trade, remodeling workforce-training programs, and more.
Kushner is involved in so many of the White House's dealings, it seems impossible that his work won't overlap with his wife's responsibilities. Sources have already started coming forward, revealing that the couple work together to stay some of the president's more extreme propositions. According to NBC News, Ivanka and Kushner reportedly "helped kill a proposed executive order that would have rolled back Obama administration protections for the LGBTQ community." It's also been reported that the two encouraged President Trump to be "less critical of the Paris climate deal" in an executive order, according to Vox.
Ivanka's lawyer told Politco that she's been commissioned to be her father's "eyes and ears" in the West Wing, while her husband is busy serving as the president's right hand.
While Kushner and Ivanka have yet to work on an official project together in the White House, they're two of the president's most trusted advisers. Their offices are one floor apart in the West Wing and they go home to the same house at the end of the day. In the end, it might prove impossible for their roles in the Trump Administration not to intertwine.