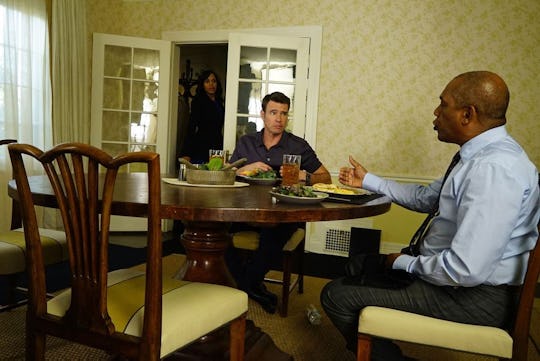 Richard Cartwright/ABC
Will Jake & Vanessa Actually Get Married On 'Scandal'? Jake Might Be Crazy Enough To Do It
If you're like me, you're probably still recovering from that last episode of Scandal — the former Vice President, Abby stepping up, the chair! There was so much going on that it's no surprise Shonda gave us an extra week to recover. But now Scandal is back and it seems Jake and Vanessa's wedding bells will be ringing a bit sooner than Olivia expected. But, will Jake and Vanessa actually get married on Scandal?
Despite Olivia's constant claims that she wouldn't be like her father, Rowan, and Jake, the last episode proved Olivia can be just as ruthless as the two of them. Therefore, it wasn't too much of a surprise when she showed up on her father's doorstep at the end of the last episode. But what happens now? With Jake and Olivia living under the same roof it's only a matter of time before they let their feelings get to them and they start sleeping together again, right? Well, Jake's still very much engaged and as far as we know he plans on going through with it, even though Olivia already proved he doesn't really love Vanessa.
But let's be real, this was never about love for Jake. Vanessa was just a way to fund Edison's presidential campaign and now Team Rowan has all the money they need (for what is still unclear since we don't know why Rowan wants Edison to be president). Still, does Jake really need to stay with Vanessa to continue to have access to her money? Seems unlikely but maybe he does. Or maybe Rowan and Jake have other plans for Vanessa.
Either way, as long as Rowan wants Jake to marry Vanessa, Jake is going to do it. Olivia might have power of Jake in the bedroom but in the rest of the house, Rowan rules. Unless Jake has really been playing Rowan this whole time and has some other plan up his sleeve, which seems very unlikely at this point. Jake has fully and completely stepped into the role as Rowan's "son", and as such he has to do what Rowan says.
So, sorry to all you Jake and Olivia (Jolivia?) shippers but it seems Thursday's episode of Scandal may officially sink this ship. Then again, this is Scandal, so really anything could happen.