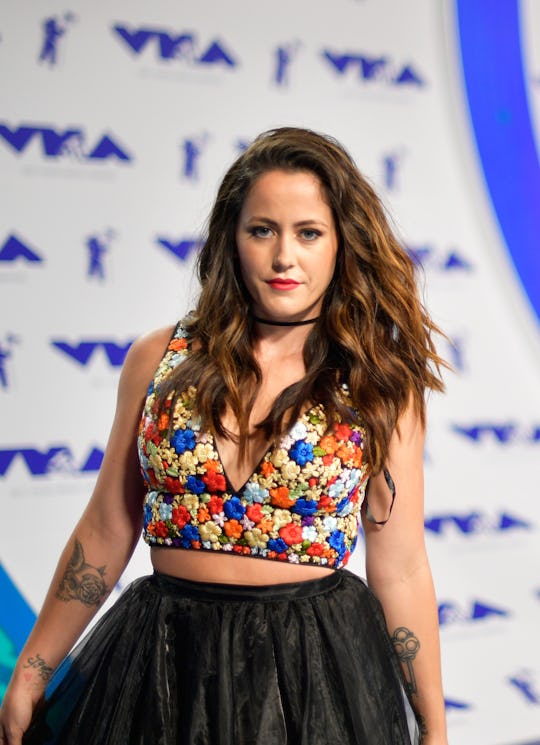 Matt Winkelmeyer/Getty Images Entertainment/Getty Images
'Teen Mom 2's Janelle Says Her Daughter Won't Come Back To The Show, & Here's Why
Teen Mom 2 star Jenelle Evans has always been a pretty polarizing figure. The 26-year-old mom of three first debuted as a rebellious mom-to-be on MTV's 16 and Pregnant, and has faced plenty of dramatic ups and downs ever since (a custody battle with her mom over her son, drug addiction, arrests, two subsequent pregnancies, and a September 2017 wedding to her now-husband, David Eason, to name a few). Throughout it all, the reality star remained involved with the MTV franchise, but on Saturday, Teen Mom 2's Jenelle said her daughter won't be coming back to the show next season, according to In Touch Weekly, and it sounds like it may also mean that Evans' days on the show could be numbered, too.
Evans — who goes by her married name, Eason, on social media — announced her daughter's departure from Teen Mom 2 in a tweet over the weekend, and wrote, "Ensley will not be appearing on #TeenMom2 after this season. Keep up with me on IG for updates of the gorgeous little babe." The news understandably came as a bit of a shock to fans, especially since the entire point of the show is to show Evans' life as a mom. But while Evans chose not to elaborate on why she had made the decision to pull her daughter from the show, fans guessed it probably had something to do with the fact that her husband was actually fired by MTV in February, according to People.
MTV announced it was immediately cutting ties with David Eason after he reportedly shared a series of since-deleted tweets in which he appeared to voice his support for allowing concealed carry weapons on school property, according to People, and in which he also appeared to make derogatory comments about gay and transgender people. The controversy began after Eason shared a tweet linking to a news article about allowing concealed carry weapons in schools, and wrote, "It only makes sense to protect our kids the proper way… the only way we know how." When a Twitter user responded to say that "education" and "intentional parenting" is how people can best protect their children, Eason then appeared to fire back, and wrote, "No, you are wrong. Please tell me sir, how do you propose we make all of America start being better parents? Or are you a monkeys uncle?"
The original commenter responded, and suggested that Eason "stop glorifying assault rifles" and teach his children "how to solve problems without calling people names or using force." Eason then reportedly responded,
And just what makes you think you have the right to tell me how to be a parent? Because you think you know me? Lmao why don't you go tell the homo and transgender parents to start teaching their kids better morals? Oh I forgot that's supposed to be normal.
In a later tweet, Eason also wrote that he was "going to teach [his children] not to associate with [gay or transgender people], or be that way," which only further fueled the backlash against him. In response, Evans told TMZ that her husband "didn't understand how offensive people would get or how Twitter even works," and that "he has deactivated his account [and] agrees he will keep his comments to himself from now on." Evans also said that Eason "doesn't hate people from the LGBT community," and added, "we are sorry for the comments that were made."
That didn't seem to be a good enough explanation for MTV though, and the network ultimately opted to exclude Eason from the remaining six weeks of production. Now, it appears that Ensley will also be excluded from future seasons of Teen Mom 2, according to her parents' wishes, but the fact that Evans still appears to be more than happy to share photos of her daughter on social media seems to be a sign that the entire family might be heading towards pulling out of the show for good.
If Evans does opt to leave the show, it would be a pretty big shakeup given that she's a long-standing cast member. But it also wouldn't be the franchise's first big departure: in 2017, Teen Mom OG star Farrah Abraham announced she was leaving the show, and recently, MTV confirmed that Teen Mom 3's Mackenzie McKee will be filling her spot.
For now though, all that seems certain is that Evans and Eason have officially decided their daughter's involvement with Teen Mom has come to an end. And it likely won't be long until fans find out for sure whether Evans also plans on calling it quits.
Check out Romper's new video series, Bearing The Motherload, where disagreeing parents from different sides of an issue sit down with a mediator and talk about how to support (and not judge) each other's parenting perspectives. New episodes air Mondays on Facebook.