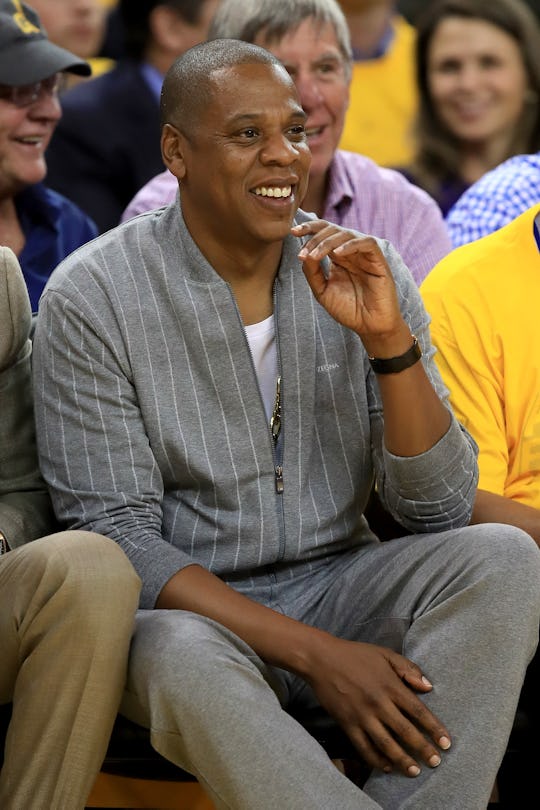 Ezra Shaw/Getty Images Entertainment/Getty Images
Will JAY-Z Bring The Twins On His '4:44' Tour?
In the past month I got a haircut and tried to eat more salads. It was a crazy four weeks, obviously. JAY-Z and Beyoncé know exactly what I mean. Much like my own crazy busy month, Bey welcomed two little humans into the world and JAY-Z managed to drop his first album in four years. Also, he decided to announce he was planning to go on tour. While fans are going to be super excited to get all the details on his tour dates, there is one obviously pressing question that needs to be answered now: Will JAY-Z be bringing the twins on his 4:44 tour?
The multi-faceted hip hop mogul hasn't been on tour since 2013, after he dropped Magna Carta on fans. While it's exciting to know that JAY-Z will be touring within a few months (the tour kicks off in Anaheim, California on Oct. 27), the timing could prove troublesome. He and Beyoncé just welcomed perhaps the most highly anticipated twins since Luke and Leia Skywalker; Rumi and Sir Carter were reportedly born mid-June. It should be noted that neither JAY-Z nor Beyoncé have confirmed the unusual names (their 5-year-old daughter is named Blue Ivy, this we know for sure), but The Telegraph reported that the couple has officially filed to trademark the names, so we should be on the right track.
Neither JAY-Z nor Beyoncé have spoken publicly about whether or not the twins will join them on tour, and a case could be made either way. The twins will only be 4 months old when the tour starts at the end of October, a relatively transportable age for babies, particularly if you have extra hands on board (and I have a sneaking suspicion they will). Plus, JAY-Z might not want to miss out on quality bonding time with the new babies. There's also the question of Blue Ivy, who killed it with her epic contribution in the bonus track on 4:44, "Blue Freestyling/We Family." She clearly needs to show up for her fans. So why not bring the twins, right?
The flip side of that coin is, obviously, babies on tour. Meh. It could get hairy. And the Carters seem to be making it perfectly clear that they want to keep their little family private (although the same can't really be said about their relationship woes; both Lemonade and 4:44 were rife with confessions and admonitions from Bey and JAY-Z respectively). Since the twins' birth, the Carters have kept mostly to themselves. It would be exponentially more difficult to keep the twins out of the public eye on the road.
Either way, the good news is that the twins have arrived. JAY-Z is heading out on tour. After months of speculation, we can all take a breath and relax knowing we've come through it all, and now we get a tour. Bless.