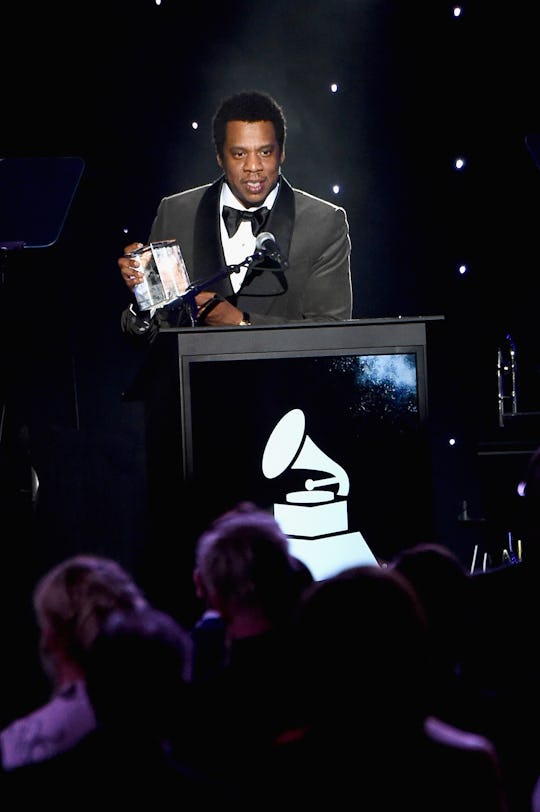 Mike Coppola/Getty Images Entertainment/Getty Images
Twitter Is Freaking Out Over #JayForPresident — Could It Be True?
It's not easy to watch the Grammys when you're basically obsessed with everyone in a certain category, which is likely how most hip hop fans felt watching the Best Rap Album award. Kendrick Lamar beating JAY-Z (and Tyler, the Creator, Rapsody, and Migos) for the award could have been a divisive moment, but when he said "Jay for president" people were feeling it. On social media, a lot of people started to wonder if JAY-Z actually will run for president, especially since he's been more outspoken than ever before about his political leanings and wishes for the country.
Lamar accepted the award in the name of hip hop, he said. And that although his journey had been a long one, he's grown to understand that the power that music can have. He said, "It is really about expressing yourself and putting that paint on the canvas for the world to evolve, for the next listener, the next generation after." Then, just before he walked off stage, he said, "Jay for president," creating a new hashtag and getting everyone thinking: Why not?
It wasn't the first time that someone has used that kind of language about the Carter family this weekend, either. On Saturday night, Clive Davis honored Beyoncé at his pre-Grammy gala and called her the "first lady of music." Why not the actual first lady, right?
Social Media Was Intrigued
On Saturday, JAY-Z was interviewed by Van Jones on CNN about his album and they got into politics, too. The hip hop mogul was pretty frank about how he feels about the current state of American politics and talked about Donald Trump being a racist and a "super bug," and that the president's comments about "sh*thole" countries was "disappointing and hurtful." Ever the gentleman, JAY-Z even cut the divisive president some slack, noting that Trump's a human being, too, and there are reasons that he thinks the way he does.
Trump obviously watched the interview and was not having it. On Sunday morning, proving that he really might not have enough work to do, Trump tweeted at JAY-Z, noting that "black unemployment" was the lowest in recorded history (a trend that started with the Obama administration). It was another instance of Trump not quite understanding a critique of his policies and politics, but it also means that if he sees "Jay For President" trending on Monday morning, his head might actually explode. Romper's request for comment from the White house was not immediately returned.
JAY-Z himself said during the interview on Saturday:
It's not about money at the end of the day. Money doesn't equate to happiness, that's missing the whole point. Treat people like human beings, that's the main point. It goes back to the whole thing, 'Treat me really bad and pay me well.' It's not gonna lead to happiness.
JAY-Z hasn't expressed any interest in running for office, though he and Bey were close with both Barack and Michelle Obama, so maybe they can get some pointers if they think they're up for it. Or not — since Lamar was probably just teasing in the same way that people joked during the Golden Globes that Oprah Winfrey should run for office.
Since Trump's been in office, people have been quick to anoint almost anyone with a knack for bringing others together, empathy for human beings, and healthy coffers as the next president (see: JAY-Z and Oprah). And although the idea of an Oprah-Jay-Z ticket in 2020 is temping, it might not be that great of an idea. It might be a novel idea to start electing people with a passion for leadership, not fame, and some experience in governing, even if it's just a local school board.
But hey, if JAY-Z wants to run, why not? Maybe Lamar knows something we don't.
Check out Romper's new video series, Romper's Doula Diaries:
Watch full episodes of Romper's Doula Diaries on Facebook Watch.