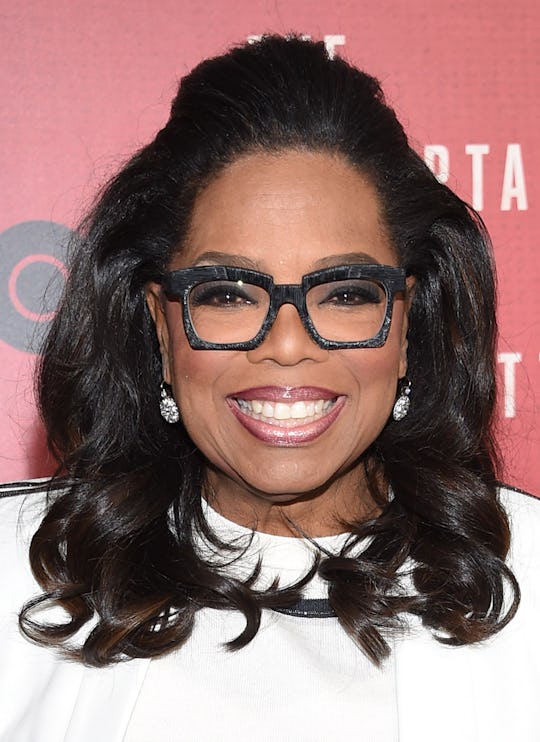 Dimitrios Kambouris/Getty Images Entertainment/Getty Images
"Oprah 2020" Has Viewers Of The 2018 Golden Globes Excited
I have no doubt that Oprah could announce her plans to attend any high-profile awards show and she'd immediately be given a front row seat, but there was a reason for her front-and-center spot at the 2018 Golden Globes. She was honored with the Cecil B. DeMille Award, and her speech after accepting it had people asking, will Oprah run for president? Oprah 2020 definitely has a nice ring to it.
To be fair, she didn't mention running for office in any capacity during her speech, but she did touch on so many important issues regarding sexual assault, gender equality, race equality, and making the world a better place for young girls regarding those very important social issues. Throughout her speech, you could have probably heard a pin drop in the room of thousands of people. She knows how to command an audience, she knows what's truly important as far as social issues goes and, most importantly, she's lived through some of them herself. These are all things that would make her an excellent candidate for president, come 2020.
Oprah's speech at the 2018 Golden Globes has fans wondering if this could be a real thing, though, and while the multi-faceted businesswoman and celebrity hasn't made any kind of announcement, I know there are a lot of fans who wouldn't hate Oprah running for president in 2020.
But Oprah's speech isn't the only thing about the Golden Globes that may have inspired this sudden campaign among her fans. During host Seth Meyers' opening monologue, he joked that he might be the key to getting her to run for president. "In 2011, I told some jokes about our current president at the White House Correspondents Dinner — jokes about how he was unqualified to be president, and some say that night convinced him to run," Meyers said in his monologue. "And if that's true I want to say, Oprah, you will never be president! You do not have what it takes to be president."
He went on to tell Tom Hanks, "You will never be vice president! You are too mean and unrelatable." So basically what we have here is a hypothetical Oprah/Hanks presidential ticket for 2020 and so many of us are here for it.
Even NBC, the network, is behind Oprah for president, so that has to mean something, right? Maybe she hasn't had actual political experience, but something tells me that it's totally possible (as in, it's literally already happened) to be elected president even if you only have experience in the business world. And Oprah already has hordes of fans who would gladly vote her into office, so can we get an official announcement already?
Since Oprah hasn't outright said that she has any plans to run for president in 2020, it's all basically fan fiction and hopefulness for now. But being given the Cecil B. DeMille Award at the 2018 Golden Globes shows just how much of an impact she's made on the entertainment industry and, really, the world. If Oprah were to seriously run for president in the next election, it wouldn't be the most outrageous thing ever and if Twitter has anything to say about it, the humanitarian, CEO, actress, and businesswoman would make a fine candidate.
In Oprah's speech, she mentioned how we're all living in a world "broken by brutally powerful men" and that "for too long women have not been heard or believed if they dared to speak their truth to the power of those men, but their time is up." Call me crazy, but to have a woman like this in a position of power like the presidency would be a beautiful thing.
Check out Romper's new video series, Romper's Doula Diaries:
Watch full episodes of Romper's Doula Diaries on Facebook Watch.