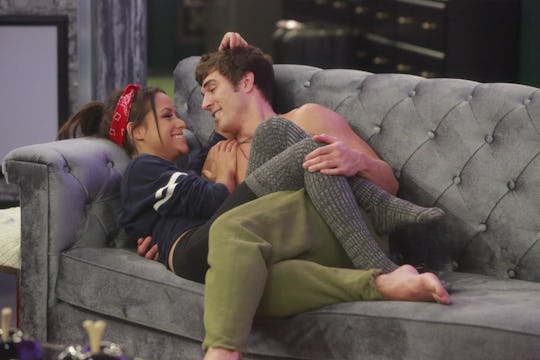 Bill Inoshita/CBS
Jessica's Relationship With Cody Is Far From Over After 'Big Brother 19'
Despite any issues fans might have had about Jessica's gameplay on Big Brother this season, the one thing no one has to really question is her relationship with Cody, which seems to have gone beyond the showmance title. Once the season is over for good and Cody is out of jury sequester, they plan to start their relationship outside of the house too. So will Jessica meet Cody's daughter after Big Brother 19?
Since they have plans to make their relationship work outside of the show, bringing his young daughter into the mix is definitely on the table. Early in the season, before anyone knew much about Cody, he revealed his paternal secret to Jessica that had a lot of build up with little shock value. Still, it gave viewers a small peak into his very private life and also showed how Cody was opening up to Jessica in a very real way.
Obviously Cody is no longer with his daughter Paisley's mother, but he seems to have the co-parenting down as they raise their five-year-old daughter together. At 26, Jessica might not yet be ready to be an official step-mom, but Cody doesn't strike me as someone who'd introduce someone to his daughter if he wasn't totally secure in his future with them.
Following her Big Brother 19 eviction, Jessica spoke to Entertainment Weekly about her departure ahead of the jury house and the missed opportunity to spend more time with Cody before the season is up. Even though she wasn't able to gain favor among the houseguests and keep herself in the game, she did make plans to meet Cody's daughter after Big Brother 19.
"I promised I would take Cody and Paisley to Disneyland, the happiest place on earth!" Jessica revealed. She went on to say that since they both live in entirely different states, "We'll split our time between Dallas and Los Angeles."
Clearly things are serious for the Big Brother 19 couple who fans either loved or loved to hate on along with Josh, Paul, and the rest of the pots and pans crew. Since Cody will be sequestered in the jury house once he's evicted, they'll still have to wait to see each other until after the season is over, but if neither of them get a crack at that $500,000 prize money, at least they were able to find something to leave the show with: a new relationship.