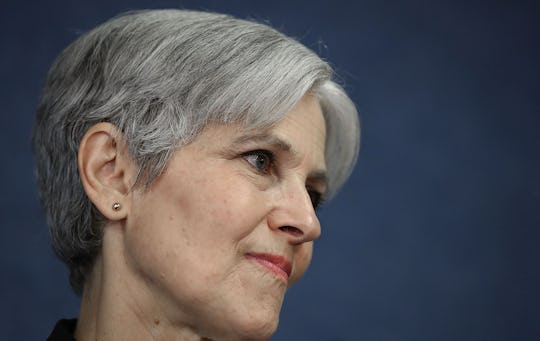 Win McNamee/Getty Images News/Getty Images
Will Jill Stein's Recount Actually Work? She's Serious About Election Integrity
There are a few people I wouldn't want to mess with, and Dr. Jill Stein is definitely one of them. When the Green Party presidential nominee puts her mind to something, she is seemingly unstoppable. And these days, Stein is putting her mind to election integrity. Since President-elect Donald Ytump's narrow win over Democratic presidential nominee Hillary Clinton on Nov. 8, there have been whispers of a possible cyber attack that could have potentially affected the results in three swing states. They are whispers no longer. Stein has launched a voter recount fundraising campaign that has managed to raise almost 4.5 million dollars within 72 hours, but will it make any difference?
It appears to have made a difference already. Three swing states in the so-called "Red Belt" are being considered for voter recount; Wisconsin, Michigan, and Pennsylvania. As the deadlines for a petition to recount ballots close in (Wisconsin's deadline is Friday, Michigan is Monday, and Pennsylvania is Wednesday), Stein managed to raise enough money within 24 hours to fund the recount; and the Elections Commissions Director Michael Haas is listening. He is preparing the state for a recount of ballots. So by my count, it looks like one down and two to go.
While the Green Party only amassed one percent of the vote, Stein said on Wednesday that election integrity is about more than the results for just one person.
After a divisive and painful presidential race, reported hacks into voter and party databases and individual email accounts are causing many Americans to wonder if our election results are reliable. These concerns need to be investigated before the 2016 presidential election is certified. We deserve elections we can trust.
Michigan, Wisconsin, and Pennsylvania all saw Trump winning by an incredibly slim margin; in fact, Michigan remains so close that CNN won't call the state for either party. All three states have historically been solid Democratic territory. And while that fact alone doesn't raise any eyebrows, the possibility of a cyber attack was strong enough to have a group of election lawyers and computer scientists asking Clinton's camp to petition for a recall. This group pointed to an attempted breach of the voting systems before the election, as well as compromised voter records in Illinois. And naturally, let's not forget the famous WikiLeaks hack of the Democratic National Convention in July.
Clinton has yet to comment on Stein's amazing fundraising efforts, but that doesn't mean Stein can't move forward. And she certainly seems to be moving forward, regardless of the outcome. As she told The Daily Telegraph:
We're not doing this because we expect the results to be overturned or because there's a smoking gun. We are doing it because the American people deserve to have confidence in the voting system.