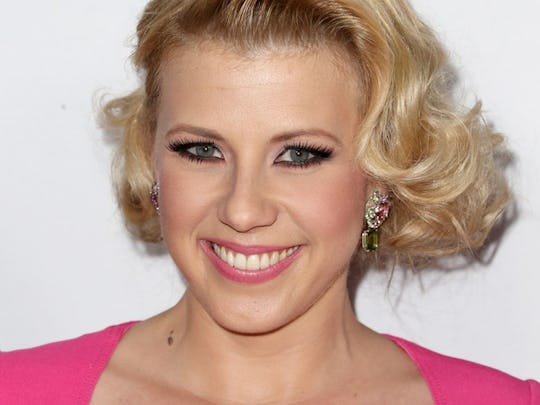 Frederick M. Brown/Getty Images Entertainment/Getty Images
Will Jodie Sweetin Be In 'Fuller House' Season 2? Fans Seriously Adore Her
Now that fans have all managed to binge watch Fuller House on Netflix and reconnect with the Tanners (though it was sans Michelle, which was disappointing), they're all probably feeling like, OK now what? We're reinvested in the girls, we want more. D.J. and Stephanie are all grown up now, just like us! The good news is we're getting more. Netflix has renewed Fuller House. And it looks like the whole cast, including Jodie Sweetin, will be back for Season 2. Can I get a hell yeah?
Sweetin has been in the news lately for a few reasons beyond Fuller House. First off, she has decided to join Dancing With The Stars for its next season, and she told People on Tuesday that her Fuller House family will be there to support her and are excited for this next chapter in her life. "I think so many people know me as Stephanie and as that character, which is amazing and there's been incredible support for it," she told People. "But now I get to show people who I am and also, I kind of get to find out stuff about myself." Stephanie Tanner, after all, was a little dancer on the original series, so it all makes sense right?
Sweetin has also been in the news because of a supposed Instagram feud with Miley Cyrus. It seems Cyrus chose a few pics of Sweetin from her earlier days, when she was struggling with some substance abuse issues.
The caption for the pic was "current mood #fullerhouse" and some fans weren't too impressed. The issue being that Sweetin is now five years sober and presumably wouldn't want pics of her pre-sober lifestyle thrown around. It felt close to cyberbullying for some and had Fuller House fans rushing to her defense.
For her part, Sweetin was a class act about the whole thing.
And this is why fans are so happy to have Sweetin back for Season 2 of Fuller House. Sweetin seems to exude this irrepressible good will these days, which I'm thinking comes from having struggled through difficult times and come out the other end to find more happiness. Sweetin wrote about her struggles with substance abuse in her 2009 memoir, Unsweetined. She also told Us Magazine about fighting for custody of her daughter Zoie while also getting sober:
I got sober for good on December 7, 2008. I was flying to L.A. and I ended up taking a bunch of Nyquil and drinking a sh*tload. When I got home, I got a call that there was an emergency custody investigation because of my drinking. From that day forward, I threw myself into going to AA and avoided people who do blow off their coffee tables. We're working on a custody agreement right now. But life is good. I'm happier than I can remember.
Let's hope the happiness keeps on coming for her.