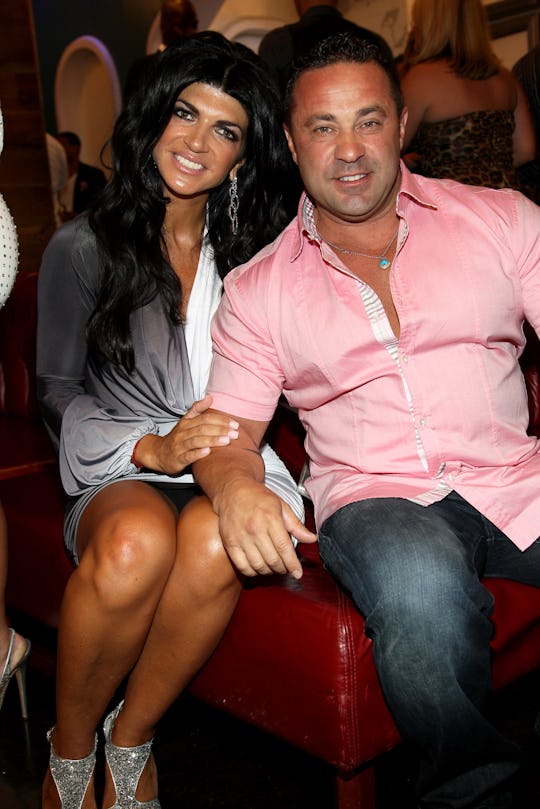 Steve Mack/Getty Images Entertainment/Getty Images
Joe Giudice Might Have To Move Back To Italy After Prison
When Teresa Giudice returned to The Real Housewives of New Jersey after serving her own prison sentence for tax and bankruptcy fraud, the big question on everyone's minds was likely when her husband would also be coming home. But, a judge recently ruled, he might not be returning to their Jersey home at all. Following his 41 month prison sentence, the convicted RHONJ husband might be deported to Italy, where he was born. But will Joe Giudice really have to move back to Italy after prison? RHONJ has shown some of the struggle that Teresa has endured caring for their four children on her own while he's been in federal prison for the past two years. And with time left on his sentence, the worst might be yet to come.
Radar Online reported that during the October hearing, the judge ruled that Joe will be deported to Italy when he finishes his sentence in March 2019. Joe explained that he'd only lived in Italy for the first year of his life and that he's been in the United States since he was a year old. However since he was never officially made a U.S. citizen, that makes him susceptible to immigration laws and deportation if necessary due to his felony charges. He has since appealed the ruling, but there's no word yet on if the appeal overturned the judge's decision. If Joe does have to move back to Italy after prison, it could mean a huge change for Teresa and their entire family.
In 2014, Teresa and Joe were both charged with multiple counts of wire, bank, and mail fraud and as such, were sentenced to 11 and 41 months in prison, respectively. Although Us Weekly reported that Joe's sentence was lessened and he'll be released from federal prison in March of 2019 rather than August, his release could still come with the stipulation that he leave the country immediately and return to Italy.
According to U.S. law, immigrants are subject to deportation if they commit felonies "involving moral turpitude," and the conviction against Joe falls under that scope. Exceptions can be made in the event that "an immigrant's removal will create hardship for U.S. citizens," so it's possible that Joe's lawyers have argued that case for him regarding his family. But if he can't prove that they are financially reliant on him, that might not work in his favor. Joe has spent the majority of his life in the U.S., and as he explained on The Real Housewives of New Jersey: Teresa Checks In, moving to Italy now would feel foreign to him.
"I was a year old when I came here," he said on the special. "My parents are citizens. My brother and sister are citizens — they were born here. I just never thought to file for citizenship." Regardless of how long he's lived in the U.S., though, he's still technically an Italian immigrant and as such, he's subject to deportation if his appeal isn't granted.
Regardless of what happens in the end, Teresa is determined to stay by her husband's side and told Entertainment Tonight that divorce is not an option. "We're going to be a family, and we're going to fight this and get through this," she said. "We are not even thinking about [whether we'd move to Italy] right now. We're going to take it day by day. We're going to take it one step at a time. First, we're going to process the paperwork to do an appeal, and we're going to get through that."
Teresa seems as optimistic as you can be when your husband is facing possible deportation after serving a three year long prison sentence. And until the court rules one way or the other in the appeal, Joe's fate is still up in the air.