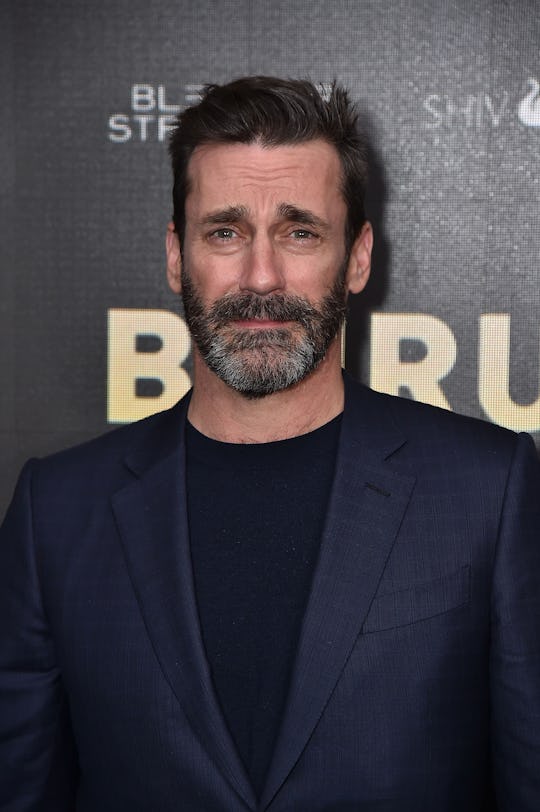 Theo Wargo/Getty Images Entertainment/Getty Images
Yes, Jon Hamm Is Back For 'Unbreakable Kimmy Schmidt's Final Season
When Jon Hamm was revealed to be the awful abductor who kept Kimmy and three other women imprisoned underground for 15 years on Unbreakable Kimmy Schmidt, it was the best twist the show could have brought in its first season. So now that the finale season is upon us, will Jon Hamm be in season four of Unbreakable Kimmy Schmidt? He's still a big part of the story, even if Kimmy has essentially moved on from the traumatic experience in her life.
As Variety reported ahead of the premiere of the first half of season four, Hamm was set to be one of the handful of beloved returning guest stars of the show. According to IMDB, Hamm will appear in just one episode of season four titled "Party Monster: Scratching the Surface," which will be about Douglas, a.k.a. DJ Fingerblast, investigating what happened to his childhood idol, DJ Slizzard. And since Hamm's character delved into music, as shown in his secret home movies, there's a good chance that this will be a way for everything to come full circle. After seeing Hamm as a bearded and then clean shaven sociopath over the duration of the series so far, I also just want to see Hamm as a struggling DJ, because how amazing would that be?
Since Hamm is probably going to be in just one episode of season four, the writers no doubt made it count and if he is going to be DJ Slizzard as well, then maybe this will give viewers a chance to see more about him before he became the terrible villain of Kimmy's life. Aidy Bryant is also guest starring in the same episode as Tabby, his ex-girlfriend, so perhaps there will be some amazing flashback-heavy scenes. I don't think Richard Wayne Gary Wayne could ever do or say anything to redeem himself, but at this point, Hamm's portrayal of the character is honestly one of the main things I look forward to with the show.
The last time we saw the reverend, it was season two and he was calling Kimmy from prison to let her know that he wanted a divorce. Of course this came as a complete shock to Kimmy, and viewers, since it seemed impossible that any marriage to him would have been proven legal or legit in any way. But hey, this is TV. Later, his new wife-to-be, played by Laura Dern, showed up to have Kimmy sign the divorce papers. But since it's been some time since Hamm has made an appearance on the show, it was only fitting that his character return one last time for the last season. Even though the reverend is terrible in every way, he's also still a big part of the story since he's part of Kimmy's traumatizing past.
Co-creator Robert Carlock spoke to Variety about season four of Unbreakable Kimmy Schmidt and where the story will go for Kimmy herself in regards to moving forward and growing up just a little bit. Because part of the charm of Kimmy is that she's always maintained some of that innocent cheerfulness that makes her so unique. He said that the goal is "Keeping Kimmy Kimmy while letting her move forward," while Ellie Kemper (Kimmy) added that Kimmy has plenty she still needs to work out in her own personal life.
I mean, after spending 15 years in a bunker and then trying to make it as a stunted adult in New York City, you can't really blame her for still having plenty to deal with. So hopefully Hamm's return as the reverend will help Kimmy deal with some of those issues even further this season.