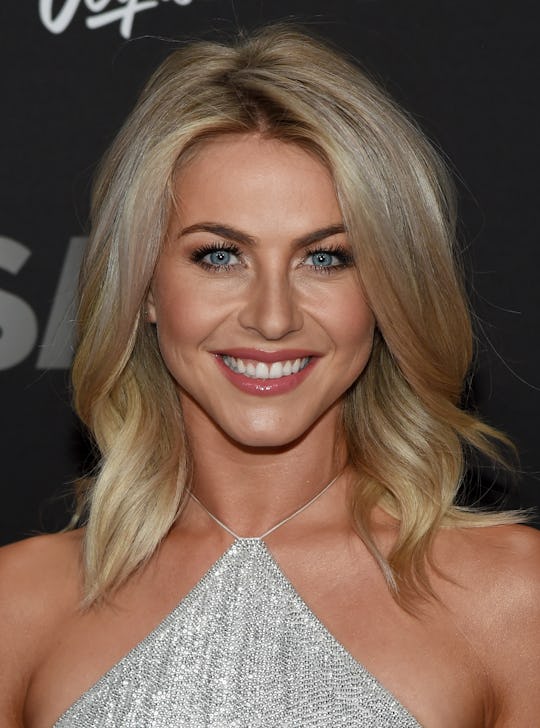 Ethan Miller/Getty Images Entertainment/Getty Images
Julianne Hough Could Still Return To 'Dancing With The Stars'
Much like Bruno Tonioli's expressive comments and gestures or Len Goodman's fair but sometimes critical judgments on DWTS, Julianne Hough is a fixture on the reality competition series. But since she's obviously not going to be part of the judging panel this season, will Julianne Hough return to Dancing With the Stars in any capacity? She's been quiet about her departure from the series, but a rep for the show did, in a way, release a statement about Hough leaving DWTS.
"We are thrilled to have Len, Bruno and Carrie Ann back in the ballroom and look forward to welcoming guest judges wherever possible," the rep told Entertainment Tonight, clearly leaving out Hough's name and pretty much confirming that the professional dancer will not be back this season and that her fate with the show is more than likely uncertain at this point.
Hough's brother and former pro Derek Hough was a little more vocal about his sister's lack of involvement on DWTS right now when he spoke to Entertainment Tonight at a pre-Emmy Award party recently. "We were supposed to go back on tour, she's just newly married, she is a very focused woman," Derek said. "She has her sights set on other opportunities and other things… Sometimes you just gotta step away from something for a little bit to create those opportunities. She's Julianne, man. She's a beast."
Julianne, who has been a judge on DWTS since 2014 and before that acted as one of the pro dancers on the show's roster, recently wed Canadian ice hockey player Brooks Laich, so a big part of taking time off from DWTS could be that Julianne wants to enjoy married life for a little while, which is totally understandable.
On a recent throwback photo on Instagram of herself with her new husband, Julianne's love for him and being married in general definitely shines through. "As amazing as it was (take me back), I feel so lucky that our 'real life' is even better than 'the honeymoon phase'," Julianne wrote in the caption. "I love that I get to wake up next to you every single day, and that we walk side by side in all we do. I love that my random thoughts throughout the day no longer revolve around the words me, or I, rather, we and us!" Seriously, could they be oozing any more of what makes them truly relationship goals?
Julianne herself has stayed pretty quiet about why she isn't on DWTS this season and whether or not she'll return to the show in the future. Acting as a judge on a show that has two seasons per year can take its toll, so wanting to take a step back from it all makes sense. That doesn't mean she plans on making it permanent though.
Julianne did post about DWTS on Instagram at the end of the last season with a photo of herself with the other three judges who have been a part of the series for years with the caption, "It was a great season with these wonderful people! Miss you already!" So as of last season, there didn't seem to be a definite end in sight for the professional dancer-turned-judge.
And right now, it looks like DWTS will be without both of the Hough siblings for the immediate future, leaving the judges' table shy of one judge and leaving room open for any and all celebrity guest judges on DWTS for the remainder of the season. But regardless of why Julianne isn't on DWTS this season or if she's going to return next season, she definitely deserves this break.
Watch Romper's new video series, Romper's Doula Diaries:
Check out the entire Romper's Doula Diaries series and other videos on Facebook and the Bustle app across Apple TV, Roku, and Amazon Fire TV.