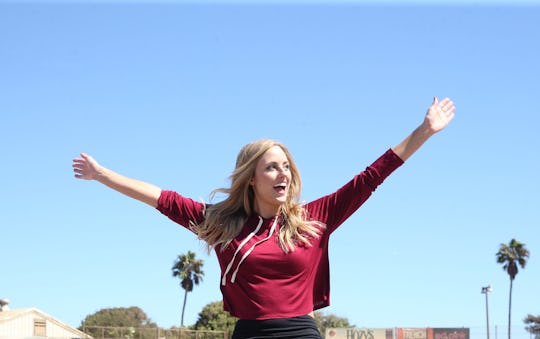 ABC
Fans Are Already Clamoring For Kendall To Be The Next 'Bachelorette'
Against all odds and upending everyone's Bachelor Fantasy League bracket, Kendall the taxidermist has made it to the final three women on Arie Luyendyk, Jr.'s season of The Bachelor. Despite the fact that she never had a single one-on-one date with him before hometowns, she beat out Tia, the much more traditional pick, for a spot in the final three. Although we don't yet know how this season will play out, since Arie hasn't said I love you to her, some fans are wondering: will Kendall be the next Bachelorette? She definitely has the support to pull it off.
Kendall would be a super unconventional pick for The Bachelorette, but that's part of her appeal, and it would invite a meaningfully different batch of male contestants to the show. Kendall has been called more "analytical" than the typical Bachelor contestant. But given her incredibly empathetic and emotionally intelligent heart-to-heart with Krystal on the two-on-one date, I don't think she's completely emotionally bereft. Even though she admitted to Arie that she finds it really hard to speak to her own emotions, it's clear she's able to intuit people's baggage and interpret their defenses and other manifestations of their trauma accordingly. That's a really important relationship skill! Kendall also puts a huge emphasis on kindness in her personal branding, but unlike other Bachelor contestants who pay lip service to that trait, Kendall actually looks for meaningful ways to be kind, especially to people she disagrees with or doesn't understand.
Then there's the fact that Kendall has a pretty kooky set of personal interests, including but not limited to her hobby as a taxidermist. She loves collecting vintage and antique taxidermy, and even took Arie on a taxidermy date during hometowns. Although some may find her hobby to be morbid, she doesn't find it spooky at all; Kendall believes taxidermy is a beautiful way to lend permanence to something that was once impermanent, and she feels comforted and soothed by that idea.
Obviously watching Kendall find a husband who could get on board with her unusual side project (she works as a set dresser in the entertainment industry by day) would make for hilarious TV. She also came up with a pretty fun bonding exercise, presenting Arie with her "Book of 100 Questions." She asked him to choose a number, which corresponded with a getting-to-know-you question, and the one he got was "Would you ever try human flesh?" (For comparison's sake, Lauren's getting-to-know-you question was "What's your favorite color?")
As fun and validating as it is watching Arie continue to choose such an off-beat personality week after week, how much more fun would it be to watch a bunch of guys who are legitimately interested in a person like Kendall vie for her roses for a whole season? Twitter is awash with Bachelor fans commenting on what a breath of fresh air Kendall is to the show, saying how she gives "weird girls" everywhere hope for a romantic path.
In truth, it seems like Arie will choose one of the other two remaining contestants, Becca or Lauren, to propose to in the end. But this has more to do with Kendall's comparative uncertainty about getting married than anything else. It's clear the two feel deeply for one another, but we know what happens when one person expects an engagement at the end of the process and the other person can't agree to it, no matter how much they want the relationship to continue. Kendall would be a radical choice for The Bachelorette, to be sure, but that's what makes her such a compelling pick.
Check out Romper's new video series, Romper's Doula Diaries:
Watch full episodes of Romper's Doula Diaries on Facebook Watch.