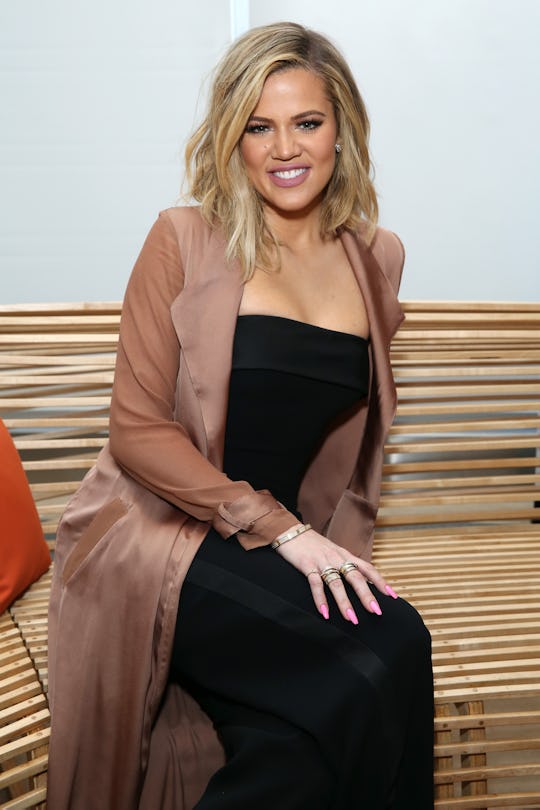 Cindy Ord/Getty Images Entertainment/Getty Images
Khloé Revealed Her Pregnancy On 'KUWTK,' But Will She Document Her Birth, Too?
In what may be one of the most anxiously awaited reveals of this decade, Khloé Kardashian recently confirmed rumors of her pregnancy with boyfriend Tristan Thompson. But her confirmation didn't stop the flow of questions from her adoring fans. For example, will Khloé Kardashian give birth on KUWTK? Her two sisters with children have had differing experiences when it comes to how the show handled their births, so the mommy-to-be may or may not decide to share her birthing experience on reality TV.
While she hasn't commented on how the filming of her family's show plays into her birth plan, she has shared some information on how the big day will play out. While recently appearing on Jimmy Kimmel Live! to promote her own show Revenge Body, she and the host discussed her pregnancy as well. When Kimmel asked if Thompson, who plays for the Cleveland Cavaliers, would be willing to miss out on play time if she gives birth on a game day, Kardashian responded, "Well, I don't know when I'm having the baby yet. It just happens from what I hear. I kind of assumed that was just known. Hell no! He has to be there." She plans to have the baby in Cleveland, Ohio. Whether or not film crews will be present has yet to be announced.
The Kardashian-Jenner family lives a famously public life, sharing more with their fans than many would feel comfortable doing. Giving birth can be one of the most private experiences a person can have, so choosing to keep camera crews out of the delivery room isn't all that surprising. Sister Kourtney Kardashian opted to leave the camera crews out of her first childbirth experience, instead passing on a home video filmed by Scott Disick to be shared on the show, according to the Daily Mail. She reportedly said that the experience made her "want to share it with people," according to the Daily Mail.
However, Kourtney decided to share her second birth with the camera crew — and her KUWTK viewers. She appeared very comfortable with being on camera the second time around, even pulling little Penelope out with her own hands. Kourtney's final childbirth experience wasn't shared on camera at all. She kept the birth of baby Reign a family affair.
As for Khloé's other mommy-sister, Kim Kardashian, she did share her emergency labor experience with baby North on camera. But that was the only time that fans ever saw of Kim's birth experience on camera. TMZ reported that cameras were not invited into her luxury birthing suite, perhaps due to North's difficult birth.
The varied decisions of the two sisters show that each and every birthing experience is unique. There are reasons to believe that Khloé may decide to share her first childbirth with fans. She has been fairly open about her journey to motherhood so far, even commenting on her struggles with fertility. This sort of candor could carry over into the delivery room, but nothing has been announced on either scenario yet.
However, contained within Khloé's pregnancy announcement was a mention of privacy. "...we wanted to enjoy this between our family and close friends as long as we could privately. To enjoy our first precious moments just us," she wrote on Instagram. If she and Thompson are interested in savoring those moments with just family and close friends, camera crews may be out of the question for their journey into parenthood.
Ultimately, it's up to the couple to decide how much of their experience they want to share with fans. And with her due date coming in just a couple months time, fans will have this answer sooner rather than later. But personally, at 5 months pregnant, I can't imagine anything more mortifying than having a camera in my face during childbirth. But hey, I'm no Khloé Kardashian.
Check out Romper's new video series, Romper's Doula Diaries:
Watch full episodes of Romper's Doula Diaries on Facebook Watch.