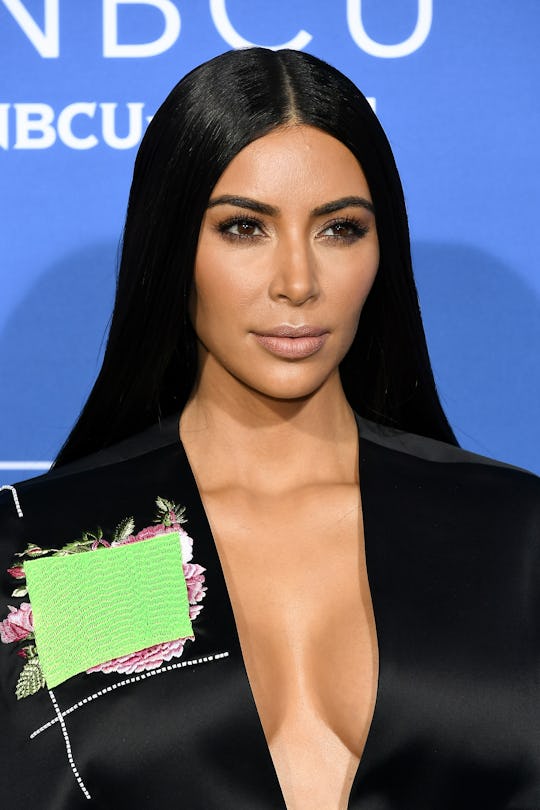 Dia Dipasupil/Getty Images Entertainment/Getty Images
Kim Kardashian West's Surrogate Could Show Up On 'KUWTK'
The Carters and Clooneys aren't the only celebrity family that's growing these days — or at least planning to grow. A source has reportedly confirmed to People that Kim Kardashian West and Kanye West have hired a surrogate. This would be Kardashian and West's third child together and it seems like they're anxious to get the process started. But since so much of their real life gets showcased on TV, many fans may be wondering: will Kim Kardashian West's surrogate be on KUWTK? As it stands now, I wouldn't be surprised.
Throughout the course of Keeping Up With the Kardashians, Kim has been very upfront about the fact that she would like to have another child in the near future and the possibility of hiring a surrogate has come up, especially given how Kim suffered from placenta accreta during her last pregnancy, making the health risks potentially higher if she were to become pregnant again herself. In fact, her sisters, Khloe and Kourtney, have even offered themselves up to do it. However, it seems as though the West family has decided to hire someone from an agency to do it instead, according to TMZ. And this person will be paid $45,000 in $4,500 monthly installments. The couple is also required to pay a $68,850 deposit to the agency. The surrogate will also receive an additional $5K for any other child that results from the pregnancy (meaning if they end up having twins or triplets, etc.).
Kim has never been shy when discussing her pregnancy struggles and desires, so it would make sense for the topic of finding a surrogate to come up on the show eventually — just like so many other aspects of her life (both good and bad) have become a focus on the show. I mean, it is about their lives after all, and this definitely counts as an important moment to document.
"I'd just love nothing more than to expand my family and just know that I have this world at home that's safe," Kim has stated on the popular series. "And if for some reason I left this earth sooner than I really wanted to, then my kids would have a support system at home so that I know that they would be okay if I wasn't here."
The Wests currently have one daughter, North, who is 4 years old, and a son, Saint, who is now 18 months old. And now, this baby will make three! Not too many other details are available right now — like whether the surrogate is already pregnant with Baby No. 3 — but I'm sure it's only a matter of time until more information is revealed, both on the show and from the couple themselves. In the meantime, fans can just be excited for the growing brood.