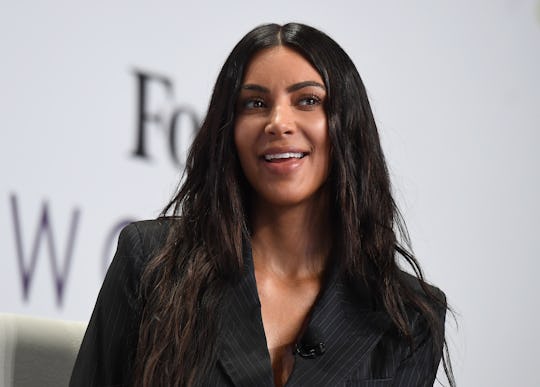 ANGELA WEISS/AFP/Getty Images
Sources Claim Kim K's Surrogate Give Birth On 'Keeping Up With The Kardashians'
There is simply no Keeping Up With The Kardashians these days, and it promises to become even more of a challenge in the coming months. As the famous family stays oddly quiet about several pregnancy rumors, the internet has decided to fill in several blanks with theories both outlandish and at least a little believable. One of those theories, that Kim Kardashian West's surrogate might give birth on Keeping Up With The Kardashians, is popping up with persistence. But could it be true?
Kardashian West and her husband, rapper Kanye West, have finally confirmed that they are, indeed, expecting their third child via surrogate this January during the premiere of Season 14 of KUWTK. In the show, Kim is talking on the phone to sister Khloe Kardashian (who is also reportedly expecting a child, although no one has confirmed the news just yet), and says, according to E! News: "What happens every time I say 'Guess what?'"
Khloe asks, "The person's pregnant?"
And Kim says, "We're having a baby!"
Kim struggled throughout her pregnancies for her first two children, 4-year-old daughter, North, and 2-year-old son, Saint. She suffers from a condition called Preeclampsia, and doctors told her it would not be safe to carry another child.
Now that Kim has (sort of) confirmed that she is expecting a third child via surrogate, the internet has come up with a whole set of new theories about her. One fan favorite is that her youngest sister, Kylie Jenner, is Kim's surrogate. Sources close to the family have confirmed that Kylie is pregnant, but that she is expecting a daughter this winter with her boyfriend, rapper Travis Scott. There has been no official confirmation from Jenner, and neither Jenner's nor Scott's reps have responded to Romper's request for comment.
Another theory? That Kim's surrogate will give birth on an episode of Keeping Up With The Kardashians. Keeping in mind that not much is even known about their surrogate other than that she is an "unnamed woman in her 20s," according to The Washington Post, and that she is due to deliver in January.
While sources close to the family have told media outlets that Kim and Kanye are planning on hosting a birthing party when their surrogate gives birth at the hospital, no one has said whether or not the event will be filmed. Apparently, Kim wants to have her family and loved ones on hand to bond with the baby right away. A source told The Sun:
Kim had very difficult pregnancies with both North and Saint, so she couldn't have her family around her for those births. This time, she wants to be really in the moment - there for every second of the birth, and wants to bond with the baby immediately.
This is entirely speculation though, and none of it has been confirmed by Kardashian herself.
That same source told The Daily Mirror that Kim has fond memories of her sister Kourtney giving birth to 7-year-old son Mason with ex Scott Disick:
She wants to share the experience with the people she loves – the whole family was there when Kourtney had Mason, and it was such a special experience for everyone.
Although perhaps there might be a little truth behind the theory that Kim's surrogate will give birth on television, the source said:
So many people have been with Kim and Kanye on this journey, they want to share the special moment with them.
I mean, her fans have sort of been on this journey with them, right? Could this mean that the couple is willing to share their experience on television with millions of ecstatic television viewers?
As with everything Kardashian these days, it seems fans are going to be kept on on the edge of their seats until the very last moment while eating up every second of Keeping Up With The Kardashians.
They really are the wiliest family, are they not?