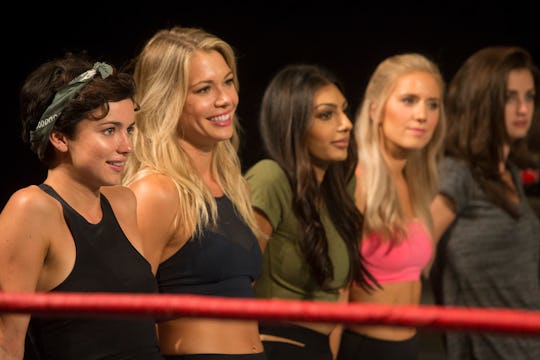 Paul Hebert/ABC
Why 'The Bachelor' Two-On-One Date May Signify Krystal's Departure
It's here friends. The date we've all been waiting for. The date in which two Bachelor contenders go up against each other on a single outing. Season 22 pits house "villain" Krystal against the lovably quirky Kendall, and I think we all can predict how this will shake out. So will Krystal get sent home on The Bachelor two-on-one date? I can't say for sure, but I have a feeling that this is going to be her last day on the series. A long time of Bachelor scholarship has taught me a thing or two.
Krystal has already been named by the world in general as this season's official "villain," drawing the disdain and dislike of the other women in the house, the viewers, and occasionally even Arie himself. So it is only natural that she would be chosen to be one half of the dreaded two-on-one date, in which one contestant gets to stay in the house and the other contestant is left stranded somewhere on an island or a desolate rock or something. With a few exceptions, the "villain" is usually the contestant who gets sent packing. That, compounded with the fact that the show has already teased Krystal's imminent departure, convinces me that this date is not going to go her way.
People already started predicting that Krystal was going to be gone after her antics in Week 5. Several times over the course of the previous five weeks she's worked diligently to undermine the other women in the house and to steal time with Arie away from them. She took things up a notch in Week 5 when she threw an adult-sized fit after Arie reneged on his promise that only the winning team from the bowling date would get to go to the afterparty. Arie gave her a stern warning and Krystal threatened to just pack up her things and leave. But former Bachelor villain and two-on-one casualty Olivia Caridi made an excellent point on Twitter.
It's true. The two-on-one is a time-honored Bachelor tradition in which the disliked contestant generally gets sent home, and everyone at home and in the house breathes a sigh of relief. Olivia actually described the awkwardness of a two-on-one to Bustle, going through all the discomfort that might naturally surface.
Nick Viall broke from tradition on his two-on-one date with Taylor and Corinne by choosing to keep the "villain" (Corinne), leading to Taylor visiting a voodoo priestess in New Orleans and then crashing Nick and Corinne's date later. In JoJo Fletcher's season, the two-on-one came down to a confrontation between Chad, a living embodiment of the phrase, "Come at me, bro," and Alex, an army vet who really just couldn't believe that Chad was still allowed to be a part of this show. Chad was sent home, only to return immediately after for one final show-down. Yikes.
In the previews for Krystal's two-on-one date against Kendall, Arie tells Kendall that Krystal had been talking some trash. Namely, Krystal claims that Kendall is not ready for marriage and "I don't even know why she's here." As if being the "villain" wasn't enough to seal the deal, everybody knows that using precious time to sabotage another woman is the kiss of death on this show. It happened to Bibiana just a few weeks earlier when she talked to Arie about Krystal.
For these reasons I feel fairly confident that Krystal will be going home after this date, though if I know Krystal, she'll probably make a surprise reappearance just when everyone thought she was gone for good.
Check out Romper's new video series, Romper's Doula Diaries:
Watch full episodes of Romper's Doula Diaries on Facebook Watch.