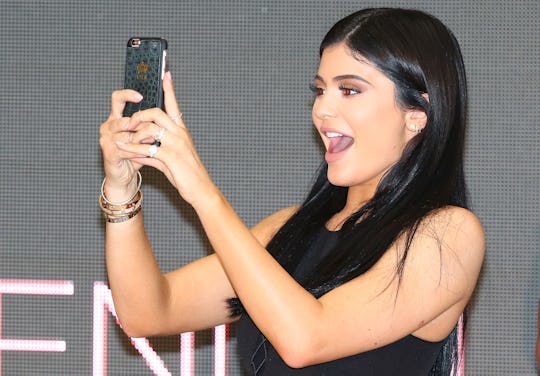 Scott Barbour/Getty Images Entertainment/Getty Images
Don't Panic, But Kylie Jenner May Delete Her Insta Once She Becomes A Mom
Kylie Jenner is reportedly preparing to grace all those who've been keeping up with the Kardashians with the newest addition to the ever-growing fam. That's right, news broke Friday that the 20-year-old makeup mogul and her boyfriend, rapper Travis Scott, are reportedly expecting a baby in February. And you know what that means: a whole new wave of adorable baby photos are just poised to hit her social media channels, and the couple's newborn will practically enter the world with a contract for a E! reality show spinoff in hand. At least, that's what Kardashian fans have come to expect from this family of professional social media entrepreneurs. But it may not actually be the case. In fact, there's reason to believe that Jenner may actually delete her Instagram after she has her baby.
Neither Jenner nor Scott has confirmed the news that they'll soon be first-time parents, and Romper has reached out to representatives for both Jenner and Scott for comment, but has not heard back yet. But TMZ, which cited unnamed sources in first reporting the revelation on Friday, reported that 25-year-old Scott has been telling friends that the couple has a baby girl on the way.
OK, so despite whatever Jenner may have said before, it seems like it's a pretty safe to assume that this baby girl will debut on Instagram as the youngest possible model for her mom's $420 million cosmetics company, right?
Well, maybe not. Back in December 2015, Jenner told ELLE UK that she could see herself leaving her life in the public eye — which is pretty much the only life she has ever known — behind once she starts a family of her own.
"I would love to have a family and build a home with a farm in Malibu Canyon and just have my kids and throw away my phone, and just really, like, live my life and not do this anymore," the then-18-year-old said at the time, in response to a question about how she sees her life playing out when she's 95.
But that's when Jenner is super extremely incredibly old, so fans can only expect that she might retreat from the glare of the reality cameras a cool 75 years from now. Her prediction about how she'll handle her social media presence as a mother, on the other hand, are much more immediate and timely now that she may give birth pretty soon:
Once I have a kid I'm not going to be on Instagram. You know, I'll probably delete my Instagram and just… I don't know, live life.
So, will Jenner really cut the cord, so to speak, on Instagram in order to just "live life" when the big day arrives? Even though she pledged to do so a couple of years ago, when she likely had no immediate plans of getting pregnant, it would be a pretty surprising move right now. With 97.8 million followers on the social media platform, Jenner is just trailing older sister Kim Kardashian's 103 million following — and Kardashian is arguably the most famous person currently walking planet Earth. And Instagram has undoubtedly been a boon in elevating Jenner's own status as a Very Famous Person, as it allows fans to experience the carefully cultivated access to her life for which her family is so well-known.
That being said, it would be more than understandable if Jenner opted to take a break from Instagram after she gave birth for the very first time, should these reports be true. New parents of all kinds would certainly appreciate the opportunity to focus solely on their babies, and the Life of Kylie star may find it useful to step back from the limelight to adjust to motherhood.
If that is the route she decides to take, it's likely that she'll be back one day. After all, her sister Kim and Kourtney Kardashian both use their own Instagram accounts to showcase adorable photos of their of their own young children, and Jenner has worked hard to achieve the star power they enjoy at a much, much younger age. At 20, Jenner belongs to a generation for which Instagram is the holy grail — and as a huge celebrity, she's one of its queens.
Perhaps fans will have to wait a little longer than they would like to see the first pics of Jenner's new baby on Insta. Or, maybe they won't. Despite previous comments, it looks like the world will just have to wait and see.
Watch Romper's new video series, Romper's Doula Diaries:
Check out the entire Romper's Doula Diaries series and other videos on Facebook and the Bustle app across Apple TV, Roku, and Amazon Fire TV.