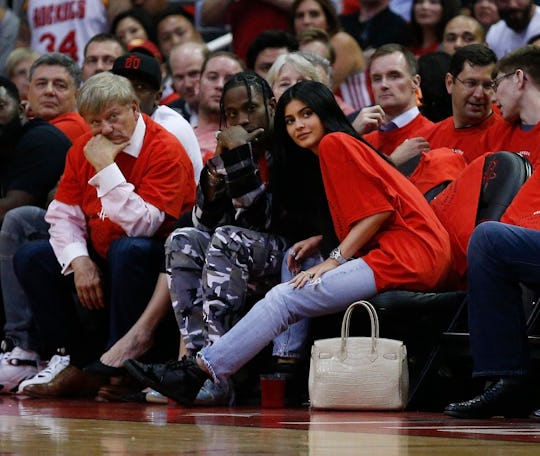 Bob Levey/Getty Images Sport/Getty Images
What Does The Future Holds For Kylie Jenner & Travis Scott?
As most of the known universe knows by now, Kylie Jenner is pregnant. The youngest of the Kardashian/Jenner clan announced the news of her impending motherhood on Friday, and social media has been having some feelings. Everyone has been weighing in on whether or not she's too young, how her family "should" react, and the nature of her relationship with the baby's father, reportedly rapper Travis Scott. And of course, everyone immediately wants to know if Jenner will marry Scott, despite the fact that it's the 21st century and people don't really have to get married when they're pregnant these days.
According to People, the Keeping Up With The Kardashians star found out she was pregnant a few months ago but has kept quiet until now. Jenner, who also has her own reality show these days, Life Of Kylie, began dating Scott after ending her on-again, off-again relationship with rapper Tyga in April. While a source close to the couple told People that Jenner "was really surprised but is so happy. She wants to be a mom," she has also taken some time to get accustomed to the idea that she will soon be a mother in private. Jenner has taken pains to hide her pregnancy, going so far as to wear baggy clothes in public and share older photos on social media so her followers wouldn't cotton on to the changes.
Coincidentally, news of Jenner's pregnancy broke on the 10th anniversary of Keeping Up With The Kardashians.
While neither Jenner nor Scott have spoken confirmed the pregnancy yet, an insider told People that there are no immediate plans to get married:
Kylie broke up with Tyga partly because she felt too young to get serious. Now she's having a baby with a guy she just started dating. People around her are really surprised. It happened really fast, but for Kylie, being with Travis is so different than anyone else. She's so in love with him. She's really excited.
In other words, 20-year-old Jenner is taking a little time to figure things out before jumping into any more life-altering decisions. Because babies don't actually have to equal marriage; and a source told People that the news of her baby (which is reportedly a little girl) is absolutely her focus right now.
It is an unexpected but completely amazing turn of events that she could not be more excited or thrilled about. Everyone is overjoyed for her. This is the happiest she's ever been.
Naturally the internet weighed in on her pregnancy, her new relationship with Scott, her family's and even her ex-boyfriend Tyga's possible reaction to the pregnancy.
For his part, Scott might not have offered any sort of official statement regarding Jenner's pregnancy, but back in June he tweeted that he was having "legit the best day of my life," and some fans are wondering if that's when he was told of the pregnancy.
As for the rest of the Kardashian/Jenner clan, most have kept quiet about the pregnancy rumors (because until they are confirmed by Jenner herself, they are still rumors). But matriarch Kris Jenner was in attendance at daughter Kendall Jenner's Bottega Veneta fashion show for Milan Fashion Week on Saturday and offered a cryptic, non-committal response to the Jenner pregnancy rumor, according to Refinery 29:
I just woke up this morning. [Kylie's] not confirmed anything. I think it's kind of wild that everyone is just assuming that that's just happening. Something happens every single day. You never know what is going to break at any moment.
So basically; stay tuned and wait as we dangle the world on tenterhooks for more details on Jenner, Scott, and their possibly baby.