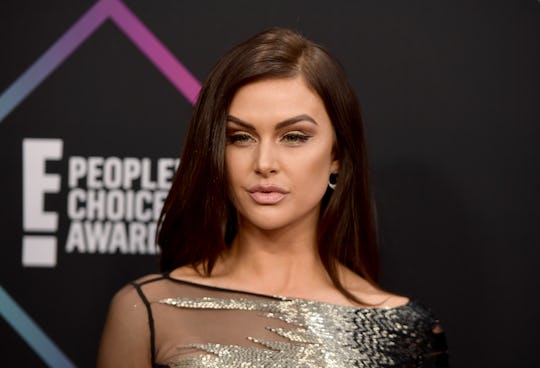 Matt Winkelmeyer/Getty Images Entertainment/Getty Images
LaLa's Boyfriend Randall Has Yet To Appear On 'Vanderpump Rules'
LaLa Kent might have dated Randall Emmett for a few years before he proposed to her in September but in that time, he never showed up on her show, Vanderpump Rules. Now that they're engaged, however, that could change since he obviously isn't going anywhere. So, will LaLa's boyfriend Randall appear on Vanderpump Rules this season? He recently made his Bravo debut already, so he's getting closer to finally being part of the extended cast.
LaLa and Randall appeared in a recent episode of Bravo's Flipping Out to get help remodeling their home. In the episode LaLa took the lead taste-wise, and spent a lot of time urging her man to increase their budge. And Randall was a good sport when host Jeff Lewis was painfully honest about his current home decor and furniture. But it definitely makes you wish Randall would appear on Vanderpump Rules sometime soon. The fact that he finally showed his face on the network at all gives fans some hope to cling to.
As it stands, neither LaLa or Randall have confirmed that he'll be on Season 7 of Vanderpump Rules, but the show is still a huge part of LaLa's life, so there could be a chance that Randall will finally appear at some point this season.
There are a couple of big events in LaLa and Randall's life together that could place him in an episode or two this season. The couple got engaged in September and filming for each season typically wraps near the end of October of any given year. Going by that logic, Vanderpump Rules could include footage of the proposal which would obviously include Randall. Maybe it would be more of a blink and you'll miss him type of deal or just a quick shot of the two of them, but that would still be progress.
Randall also went on a cast trip to Mexico in October. Depending on when filming ended exactly, the crew could have been around for said trip, meaning that Randall may appear toward the end of the season. I know the Vanderpump Rules cast are friends in real life, but it does seem telling that Randall would accompany them all on a trip toward what could be the end of filming Season 7 and not make it on camera.
That said, gellow Vanderpump Rules star Scheana Shay did tell Us Weekly to "never" expect to see Randall on the show. But she added, "He's one of our favorite people to hang out with. He's so much fun, such a great personality, absolutely obsessed with her… They are a very good match." If he's spending that much time with the cast, then he might as well show his face on the show this season, am I right?
LaLa and Randall started dating a couple of years ago and it was only in the past year that their relationship was made fully "public" as Randall's divorce with his first wife was finalized. And now that that's behind him, it seems like a good of a time as any to make his official Vanderpump Rules debut.
Maybe I'm just being overly hopeful because I want (read: need) to see him with LaLa on Vanderpump Rules. So until he says so himself or LaLa says it will never happen, I'll be holding out hope. Especially during this season, when so many things happened in LaLa's life — from her father's passing, to her birthday, and finally her engagement. It may prove to be a very LaLa heavy season and what better way to continue in it than to finally introduce her soon-to-be hubby to the show?
This first-time mom wants to have a home birth, but is she ready? Watch how a doula supports a military mom who's determined to have a home birth in Episode One of Romper's Doula Diaries, Season Two, below. Visit Bustle Digital Group's YouTube page for the next three episodes, launching Mondays in December.