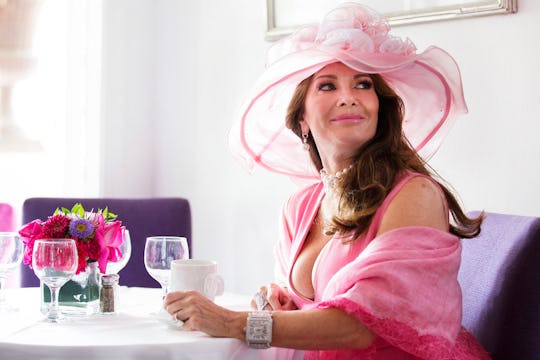 Isabella Vosmikova/USA Network
'Vanderpump Rules' Season 7 Will Be Here Before You Know It
By now, Lisa Vanderpump basically owns part of Bravo, so fans are probably already wondering about the future of her shows and when Vanderpump Rules Season 7 will premiere now that Season 6 is coming to a close. It might be here before the end of the year, actually.
Although Bravo hasn't yet released a complete fall schedule, most of the past seasons of Vanderpump Rules have premiered in either November or early December, just before the holidays. So as long as the show keeps up with its current schedule pattern, then fans can expect to see Vanderpump Rules Season 7 debut at some point in November or December of 2018, which really isn't that far away when you stop and think about it.
Although that would mean that filming for Season 7 would probably have to get started relatively soon, it's not unlike reality shows these days to film at a more constant rate, like the different iterations of MTV's Teen Mom franchise, which are released twice per year, alternating with each other. There will be no shortage of content to fill Season 7 either, and since Vanderpump Rules was already renewed, fans can be sure that they'll be getting their fill of all of the juicy gossip and drama from SUR sooner rather than later.
Stassi Schroeder's new boyfriend, Beau Clark, is already chummy with her group of tight knit SUR friends, so chances are, fans will get to meet him on the show at the start of Season 7. As long as she's still with him by the time filming begins or as long as things are serious enough, then he'll probably be around. Does that mean her ex could also pop up to create some drama? This is reality TV, so never say never.
Speaking of Stassi's exes, Jax Taylor said on the first part of the Season 6 reunion that he may be ready to move forward with starting a family with Brittany Cartwright. Although viewers saw the ups and downs of their relationship throughout the course of Season 6, it would seem that the recent passing of Jax's dad has helped him see what's most important in his life, so this could mean a much more serious and steady future for the couple heading into Season 7.
One thing that could slow down production on Season 7 a little bit is the sudden death of Lisa Vanderpump's brother, Mark Vanderpump. Lisa recently told The Daily Mail that she was taking the time to work through the sudden tragedy and help her brother's sons do the same. Because of the unexpected loss, there is a chance that Lisa might need to take a break from filming Season 7 of Vanderpump Rules if filming has already begun, or even push it back a bit. But given that Bravo as a whole is pretty diligent with its schedules each season, there might still be a November or December 2018 premiere date.
Since the show premiered in 2013, a lot of the main cast members have stuck with it, and for the most part, they've each come a long way. Naturally, you can't help but count down the days until the next season kicks off, if only to be able to continue to follow where they'll go next. As with any season of Vanderpump Rules, there's sure to be a ton of drama, heartache, and humor to fill the usual 24 episodes. And the fact that the show has been renewed at all is a good sign that it probably isn't going anywhere anytime soon.