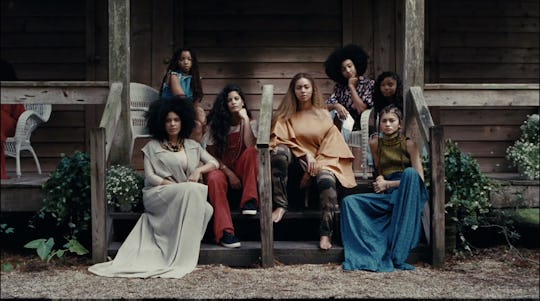 HBO
Will 'Lemonade' Be Available On HBO? Beyonce Fans Will Need To Look Elsewhere
It's bizarre to remember that, not so long ago, the word 'lemonade' was used by most to refer solely to the drink, and not to the surprise Beyoncé album/video special that sparked a million theories about "Becky with the good hair." For those who still haven't watched it (or who want to watch it again... and again... and again), figuring out how to access Lemonade can be a tricky business. HBO premiered it, but will Lemonade be available on HBO again? Unfortunately, it seems like the HBO Lemonade availability was but a brief, shining moment, and Beyoncé fans will have to look elsewhere to get their fix.
Typing the word 'lemonade' into HBO's search engine brings up only the disappointing message, "We're sorry, there are no programs matching your query." But fans needn't worry. Lemonade is available on iTunes, as long as you're willing to pony up some cash. While individual tracks are available, anyone who wants to access the film needs to buy the whole album for $17.99. As nice as it would be if the whole world could just watch Lemonade for free anytime they wanted, of course Beyoncé would like to be paid for the incredible amount of work she put into making it.
Fans can also access the album on TIDAL, Jay Z's streaming service, although they might be less inclined to support Beyoncé's husband since Lemonade seems to accuse him of allegedly cheating on Queen Bey (Jay's reps have still not come forward to comment on the rumors). Lemonade is also available on Amazon, and for those who actually want to hold the album in their hands, a physical version of it will come out May 6.
If anything, the somewhat-confusing availability of Lemonade has only made people more interested in it. Since its release on April 23, it has launched a thousand think pieces about black womanhood and feminism, garnered near-universal acclaim (except for Piers Morgan, who apparently would prefer if Beyoncé ignored all actual issues and just sang fun things, because he's an idiot), and unleashed the wrath of the Beyhive on various women who seem like they may have been the "Becky with the good hair", the woman who supposedly had an affair with Jay Z. (Again, just rumors, but they've caused quite the firestorm.)
Now, Lemonade is on track to hit the top of the Billboard charts, which would make it Beyoncé's sixth number one solo album. And who knows how much higher that number will get? She's mastered the art of creating buzz, with the quality music to back it up. At this point, it's clear—Beyoncé runs the world.