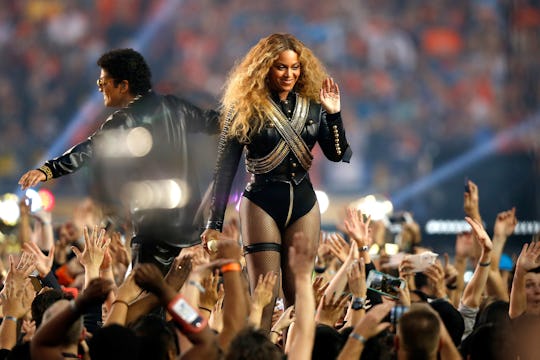 Ezra Shaw/Getty Images Sport/Getty Images
Will 'Lemonade' Be Available On Spotify? There Aren't Many Ways To Stream Bey's Latest
Musical powerhouse Beyoncé has dropped another surprise album on her fans and the entire internet is still reeling from its impact. After months of buildup and mystery, the 34-year-old singer launched her much-anticipated sixth album, Lemonade, earlier this week during the HBO premiere of an hour-long "visual album" broadcast of the same name. Naturally, fans will want to experience every lyric in Lemonade's 12 tracks over and over again (note to self: cancel any plans to be productive this week), but there aren't many options for streaming Queen Bey's latest online. Obviously, Beyoncé's latest album has been placed on TIDAL, Jay Z's performer-owned streaming service. But many fans will likely be wondering when Lemonade will be available on Spotify or other streaming services. And the chances don't look very good.
For now, the only way to stream Beyoncé's latest work is by subscribing to TIDAL, the streaming music service founded by a coalition of artists including Beyoncé, Jay Z, Alicia Keys, Daft Punk, Kanye West, and Rihanna. The service isn't exactly cheap, either: while a standard subscription costs $9.99 per month, according to its website, premium plans can run as much as $19.99 monthly.
Bummer. But the good news is the service offers a free one-month trial subscription that would allow users to listen to Lemonade in its entirety before committing long term. Visitors to the site can also preview 30-second clips of each song.
Still, fans who choose not to subscribe to TIDAL may not see Lemonade on competitor service Spotify anytime soon. On Saturday, The Verge reported news from several sources that Lemonade would only be available to TIDAL subscribers for the near future. Later, that report was updated with news that a TIDAL rep had stepped forward to confirm that the exclusive access to Lemonade on the subscription-based streaming music service would "continue in perpetuity."
Spotify execs are apparently hoping that will change. The Independent posted a statement on Tuesday quoting a rep as saying that, while Beyoncé's album "is not currently available" on Spotify, "we love Beyoncé and we hope that we'll have the album on Spotify very soon."
This project isn't the first time that Beyoncé has limited access to a new release. In 2013, when the singer staged a surprise release of her fifth album, Beyoncé, she made the entire album available as a $15.99 iTunes exclusive — with no way to buy individual singles or access them on subscription-based "musical buffet" services like Spotify or Rdio, according to The Verge.
But to all those Bey fans who haven't yet made the leap to becoming TIDAL subscribers: take heart. There are several options for buying Lemonade online, though all will require ponying up the cost of the video, album, or single. Digital and physical recordings of Lemonade are available for sale on Amazon right now. And while listeners won't be able to stream Lemonade on Apple Music, the singles and album are available for sale on iTunes, so feel free to go take a nice, long sip.