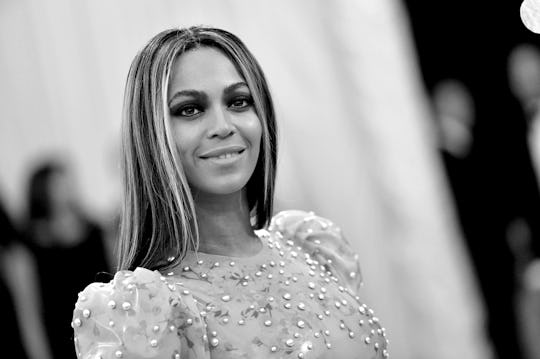 Mike Coppola/Getty Images Entertainment/Getty Images
Will 'Lemonade' Be Nominated For A Grammy? It's Definitely The Album To Beat
Since Beyoncé dropped Lemonade into our incredibly grateful laps back in April, she has once again reigned as the Queen of the Media (like there was ever any doubt). The 60-minute-long companion visual album she debuted on HBO on April 23 sent her fans into a frenzy, both because it was just that freaking amazing and because of the rumors it started. Divorce? Infidelity? Beneath the rumor mill and the social buzz, though, is an album full of passionate artistry worthy of recognition. So will Lemonade be nominated for a Grammy this year?
Lemonade is Beyoncé's sixth solo album. The album and companion film are both available to stream on Tidal, the music site Beyoncé co-owns with a handful of other musicians and producers, including her husband, rapper Jay Z. A non-digital CD-version of Lemonade is set to be released on May 6, and of course the Queen is killing it on her "Formation" tour as we speak.
The album is described as "a conceptual project based on every woman's journey of self-knowledge and healing," according to Tidal. So far, it's received universal acclaim on Metacritic, with a 93 percent approval rating. Everett True of The Independent gave Lemonade five stars and wrote that "Lemonade is fiery, insurgent, fiercely proud, sprawling and sharply focused in its dissatisfaction." Similarly, Rob Sheffield of Rolling Stone wrote,
[Beyoncé] lives up to every inch of that superhero status on Lemonade. Like the professional heartbreaker she sings about in "6 Inch," she murdered everybody and the world was her witness.
While the hype surrounding Beyoncé's new album could be considered a fair indicator of her Grammy chances, nothing is certain. Although I have to say, I don't envy the judges if they choose not to nominate Queen Bey and the Bey Hive gets a hold of them:
With the Grammy nominations still months away (the nomination period began October 2015 and ends September 2016), I think we can all have faith that Queen Bey will, in fact, be nominated (along with her impressive list of collaborators). After all, she is the most nominated woman in Grammy history. (She has been nominated 48 times and won 17 Grammys.)
Lemonade debuted at number one on the Billboard charts and is holding strong. While she already has some strong competition in the Album Of The Year category with big hitters like Adele (25), Kanye West (Life Of Pablo), and Drake (Views), Beyoncé is clearly the one to beat.