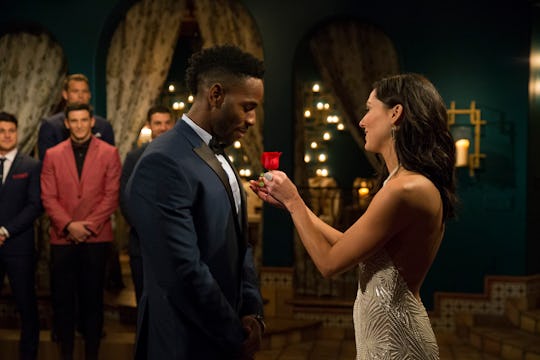 Paul Hebert/ABC
Will Lincoln From 'The Bachelorette' Be On 'Paradise'?
There have already been several controversies this Bachelorette season, and they seemingly keep getting worse. Last week it was revealed that one contestant had been convicted of assault: Lincoln. Will Lincoln be on Bachelor in Paradise? Considering what happened last year, I say the chances are probably slim.
Just as Becca's season began airing, Lincoln was found guilty of indecent assault and battery for groping and assaulting a woman on a cruise ship two years ago. Shortly after the news broke, Jake Wark, the Press Secretary for the Suffolk County District Attorney's Office in Massachusetts, released a statement about Lincoln's sentencing to Reality Steve:
Mr. Adim was convicted on May 21, 2018 of indecent assault and battery for groping and assaulting an adult female on a harbor cruise ship early on May 30, 2016. He was sentenced to one year in a house of correction, with that term suspended for a two-year probationary period. The judge ordered him to stay away from the victim and attend three Alcoholics Anonymous meetings per week during those two years. If he complies with the judge's orders, he will not have to serve out his term, but if he fails to comply with those orders or re-offends, he could be ordered to serve out the year behind bars.
In a statement released to TMZ, Warner Bros. (who produces the show, while ABC airs it), said, "No one on the Bachelorette production had any knowledge about the incident or charges when Lincoln Adim was cast, and he himself denied ever having engaged in or been charged with any sexual misconduct."
In the statement, Warner Bros. firmly stated that it takes measures to ensure that every contestant undergoes a thorough background check before being cast. "We employ a well-respected and highly experienced third party who has done thousands of background checks consistent with industry standards to do a nationwide background check in this case," the statement said. "The report we received did not reference any incident or charge relating to the recent conviction — or any other charges relating to sexual misconduct." The company also said that they were currently investigating. Lincoln's conviction came just a week before Becca's season was set to air, which meant that it was too late to remove Lincoln from the show.
ABC and Warner Bros. have been very clear in their statements that Lincoln would not have been cast had producers known about the sexual assault allegations. Now that he has actually been convicted, there is no way he would be allowed to participate in another reality show.
This is not the first time that Bachelor in Paradise has weathered a sexual misconduct scandal. Filming for Season 4 of the show was halted due to allegations of sexual misconduct. And while an investigation showed no evidence of any such misconduct, the show's rules did change and the show opened up a discussion about consent.
So, no, I don't think Lincoln will be on Bachelor in Paradise. Honestly? Once Becca eliminates him — good riddance. Lincoln made a good first impression as one of the men to appear on the After the Final Rose special when Becca was announced as the lead. But since his time on the show his popularity has seen a steep decline. He appears as one of the main instigators of drama within the house and doesn't seem well-liked among the other men.
Luckily, I don't think he will make it much farther in the show. Becca seems to be moving her relationships forward with some of the other men. I think we can all agree that the less we see of abusers on our televisions, the better.