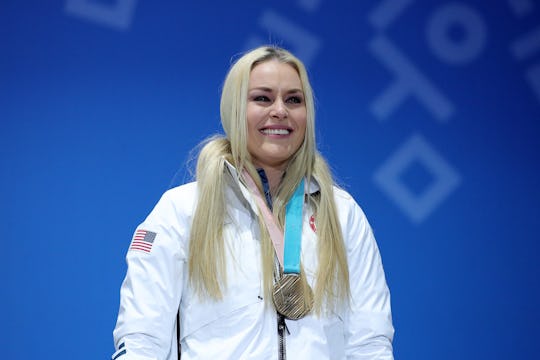 Andreas Rentz/Getty Images Sport/Getty Images
Here Are Lindsey Vonn's Thoughts On Visiting The White House After The Olympics
On Wednesday, Olympic alpine skier Lindsey Vonn snagged a bronze medal in the last downhill race of her career. Following Vonn's impressive win, many people have questions about her future plans now that the 2018 Winter Games in PyeongChang, South Korea, are coming to a close. Most notably, fans are wondering if Lindsey Vonn will visit the White House after the Olympics. Spoiler alert: Don't hold your breath.
In case you missed it, Vonn got into a bit of an online scuffle with supporters of President Donald Trump on Saturday. Vonn, who is an outspoken critic of Trump, received taunting tweets from his fans after she lost the Super-G race at the start of the Olympics. Although Julie Foudy, a sports commentator at ESPN, felt the need to defend Vonn, she clearly wasn't phased by the backlash.
"It's ok Julie. Not everyone has to like me but my family loves me and I sleep well at night," Vonn tweeted, according to HuffPost. "I work hard and try to be the best person I can be. If they don't like me their loss I guess … thank you for the support."
And given what a class act Vonn clearly is, it's no surprise she's handling the topic of visiting the White House with a lot of tact. As some of you might already know, it's tradition for Team USA to be honored at the White House following the Olympics, and many 2018 Olympians have spoken out about this hot-button issue throughout the past few months.
As for Vonn, when asked if she'll take a trip to the White House post-Olympics, she responded, according to The Guardian:
Absolutely not. Nope. I have to win to be invited so – no, actually I think every US team member is invited. So, no, I won't go.
Of course, this news shouldn't come as a surprise to Vonn's longtime supporters. In December, Vonn got candid about her feelings on Trump when discussing her hopes for the Olympics. "Well, I hope to represent the people of the United States, not the president," Vonn said, according to CNN.
In short, Vonn thinks government officials (including Trump) are failing to adequately represent America at the moment. Vonn explained, according to Forbes:
I take the Olympics very seriously and what they mean and what they represent, what walking under our flag means in the opening ceremony. I want to represent our country well. I don't think that there are a lot of people currently in our government that do that.
Vonn, as it turns out, is in good company regarding her decision to not visit the White House. Adam Rippon, an Olympic figure skater and beloved member of the LGBTQIA+ community, will also decline the White House's invitation.
Rippon explained that as a gay man, he wouldn't feel comfortable mingling with members of the Trump administration, many of whom, like Vice President Mike Pence, have supported anti-LGBTQIA+ policies and sentiments. "I won't go to the White House. I don't think somebody like me would be welcome there, Rippon stated, according to The Hill. "I know what it's like to go into a room and feel like you're not wanted there."
And on Feb. 12, Rippon revealed that he plans to do something to "help" the LGBTQIA+ community in lieu of visiting the White House, according to The Advocate. Although it's not clear at this time what Rippon has up his sleeves, I'm sure it will be amazing.
In addition to Vonn and Rippon, Olympic skier Gus Kenworthy and Olympic figure skater Nathan Chen will not accept the White House's invite, according to The Atlanta Journal-Constitution.
Of course, it goes without saying that Vonn and her fellow Olympians will face backlash for their decision to not join Team USA at the White House. What's most important, however, is that Vonn and her fellow teammates remain true to their convictions and political beliefs. I can't think of a more Olympic trait than refusing to compromise on your values.
Check out Romper's new video series, Romper's Doula Diaries:
Watch full episodes of Romper's Doula Diaries on Facebook Watch.